i'm goood, i got back from 3 days in somerset with ruby and 5 days of florence with rob at about midnight this morning! florence is such a beautiful, peaceful city. there's so much to see and with a 'gelateria' or ice cream shop round every corner it's impossible to not love the relaxed vibe of the city. now that i'm back i really need to get a load of artwork done for my exam next week but i've been waiting so long for a mild weather day to wear this tee so i couldn't help myself wearing it to the bank and asda today haha.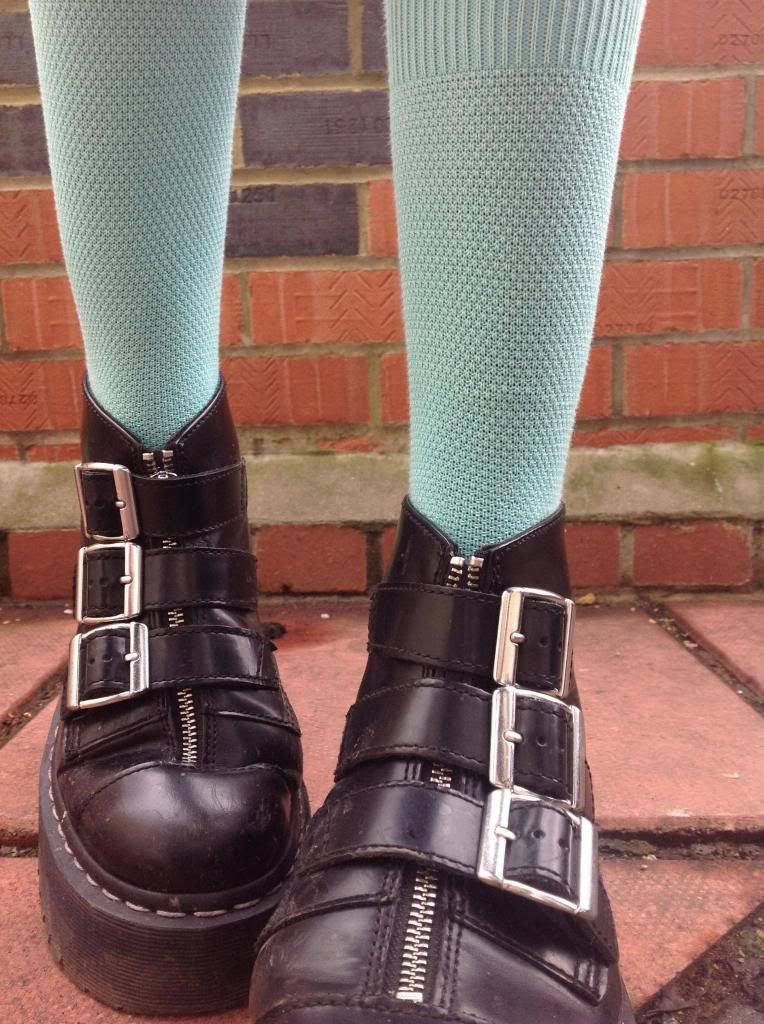 turtleneck, scrunchie, nail polish & socks - american apparel
t shirt - slazenger @ sports direct
boots - dr martens x aggyness deyn
i love wearing big baggy tees as dresses; so cosy but i love the look of them with the sleeves rolled up too. this is a 2xl, and what makes it even better is the fact that it cost me two pound fifty, hello sports direct! i paired it with my striped turtleneck because i thought it would go nicely with the yellow rim of the tee, plus it isn't quite warm enough just to wear a t shirt on it's own yet. it's crazy how i never used to have my hair up outside, and since rob pushed my hair comfort zone in some photos for his art project, and i discovered the joys of scrunchies at aa i have my hair up probably just as much as i have it down and this is my newest neon red scrunchie. american apparel are really good for socks as well, i thought i should branch out from the striped ones that i wear all the time and so i tried these seed-stitch socks and i think they're my new favourites. i'm just so happy that the weather is getting slightly warmer, i know it's not a heatwave or anything haha but i'm just so excited for summer.
hope you all had a lovely easter! take care, ronan x