evening :) how're you all doing?
just a short post from me today as i have to get up for boring old school tomorrow :) but i wanted to do a quick post on the brits - as all of you probably know - was on yesterday, and as some "stars" rocked the red carpet, some simply shocked it.
----------------------------
1. rihanna - i thought i'd start off with someone who some people love, and some hate. of which i'm siding more on the dislike side. i much preferred her "if it's loving that you want" days. but even though i'm not her biggest fan, i can't deny that she does have pretty good style (excluding her most recent s&m video)
lots of people were quite confused with it and couldn't decide whether they liked it or didn't, i personally really like it. it's different for one, looks like a cross between an explosion at the sweet factory and something thumbelina would wear but here i think it works.
i like the different colours, because most celebrities wouldn't go for something as outgoing at such a publicized event in case of it failing but rihanna's taken a chance here and i really like it :) the only thing i dislike is the shoes, i don't like the pointiness, because the dress is already quite a statement i don't think she shoes needed to be as well.
------------------------------------------------
2. cee-lo green. i like cee-lo green's "forget youuuu...oo ooo oooo!" and i'm still not sure whether he is actually gnarles barkley as i've heard some rumours. but he doesn't fit under the usual rapper type artist stereotype, which is why i was suprised when i saw that he turned up in the brits in this...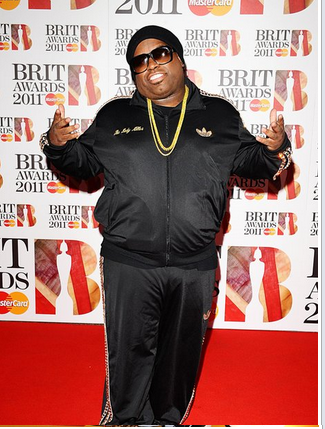 so cee-lo thought it a good idea to turn up at the brits -which is the biggest awards event in a musical artist's career- dressed like he's gone through missy elliot's bin and worn what he found. i was majorly unimpressed with this outfit, i mean i can understand the appeal of feeling comfortable but it doesn't look great it he'd won an award and gone up to the stage in his shades and robber-hat and spurted out a speech. i think his stylist needs to be fired.
----------------------------------------------
3. jessie j- the "hottest new artist" according to some. i personally think that do it like a dude is a tiny bit annoying, although one can help but sing along to the "we can do it like the mandem mandem" bit :p i heard her singing "mama knows best" on youtube though and she actually has a really good voice! anyway, this is what jessie j wore the the brits..
i can't really decide what i think about this one. i don't think it's a very nice dress, i hate 3/4 length sleeves, they should either be rouched at the elbow or full length, but i think there's something about the rest of her look that allows jessie j to pull it off.
although she does look a tiny bit like a leaf, she definitely stands out and i think it looks alright :) i think it would be a bit nicer if it were a bit longer, because you could probably see her botty at the back, and definitely make the sleeves longer, but apart from those 2 little things it's alright.
-----------------------------------------
4. alan carr. what nazel voicey stand up comedian and tv presenter alan carr was doing at the brits i do not know! but he arrived in true alan carr fashion
this really is true alan carr fashion, and for those who've ever caught him doing stand up or on his show "chatty man" you'll know exactly what i mean. i can't knock alan carr for turning up in this horrific brown metallic blazer, because it's alan carr. apart from the fact that i know i'd do a better job dressing alan carr, i have nothing else to say about it because it's all so wrong :P
-------------------------------------------------------------
5. katherine jenkins, is an opera singer who i actually really like. even if you don't like opera music, you'll probably like a little bit of katherine jekins for when you're having a mellow, quiet moment :) i recommend "time to say goodbye" bit depressing maybe but it sounds pretty. katherine jenkins went for an lgd - i just made that up, but it means little green dress ;)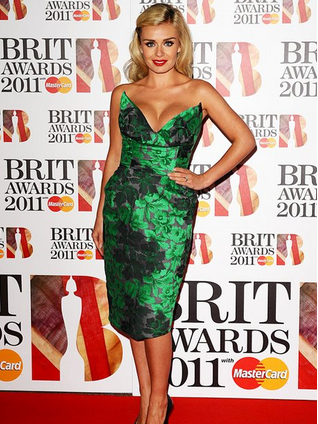 i really love what katherine is wearing here. the minimal make up and simple but sophisticated green dress really work together and are perfect for this type of event. i can't fault it to be honest, i think she looks really good and even though the boobla area is a pointy, the dress's gotta have a bit of jazz in it somewhere.
--------------------------------------------
6. professor green and candy mccolloch - google told me that candy is professor green's girlfriend. i don't really have much of an opinion on professor green's music, i don't like it but i don't dislike it :) it's okay. here's what he and his girl turned up in for the brits -
his suit's pretty standard, looks alright. brought it back to smart-casual with the trainers which i think is fine. i'm just not sure about candy's outfit.
first of all, she is the only female who wore trousers to the brits, there's nothing wrong with it. but there may be a reason why.. the bright red would probably have been ok if the top wasn't so horrible. the problem about wearing tops that have a tight fitting bottom and jeans is that the top goes over the jeans making you look really blobby around the middle which is exactly what has happened here.
also, the chiffon sleeve is good for revealing flesh but still staying classy because you're sort of not revealing anything, but it only really works if you're showing flesh somewhere else. as contradictory as that sounds, what i mean is, chiffon sleeves are usually on mini dresses - legs are out, or on crop tops - stomach is out. you see what i mean. this is what went wrong for candy, i think she should have opted for a slightly longer top of the same style, and red tights. that way she would have everything she wanted, but it wouldn't have looked so... odd.
---------------------------------------------------------------------
7 & 8 together because i think their outfits would look good as a duet for a couple - dizzee rascal and emma willis. everyone loves a bitta dizzee and i'm not exactly sure who emma willis is. but this is what they wore and you'll see why i think the outfits would be perfectly matched-
so you can probably see why i thought they'd match :) dizzee rascal looks cool but smart in his sleek suit and cute little bow tie, and emma's lace white dress and skinny belt completely complement each other. and i think they both look really good, perfectly suited for the event. see the length of emma's sleeve and see why it's a lot better than jessie j's dress :P but i think these 2 outfits look really good together, and who knows, there might be sparks for emma willis and dizzee rascal in the future ;)
-----------------------------------------------------------------
turned out to be slightly longer than a short post :P but i hope you enjoyed reading and seeing what some celebs turned up in for the brits ;) i'll just leave you with avril lavigne and hofit golan, who's red carpet outfits look very... different and experimental but not in a good way :P but i'll let you make your own judgements ;) ronan xxx