good evening :) hope you're having a great week! for those who are on school half term, how gutted are you that we only have 2 days left of the holidays? as sunday doesn't count because you can hardly relax :P
anyway today i had a really good day! i went to westfields white city shopping centre which is just by shepherds bush train station -which is one of the biggest indoor markets in europe - with my good friend keisha (
http://www.myrevolvingfashionworld.blogspot.com/
) it
was great fun of course! but we had our eyes peeled for something special today:
i always see "street style" sections in magazines where someone has gone around and picked out people who had great style and reported to everyone so that they can learn some tips. so i thought it could be quite a nice thing to do on my blog, so i decided i would do it regularly and since i was out in a shopping centre, i couldn't think of a better way to start?
so we had our eyes peeled for people who looked that just bit different and surprisingly, there were only 3 people who stood out to look great but just that bit different one of which included presenter reggie yates.
-------------------------------------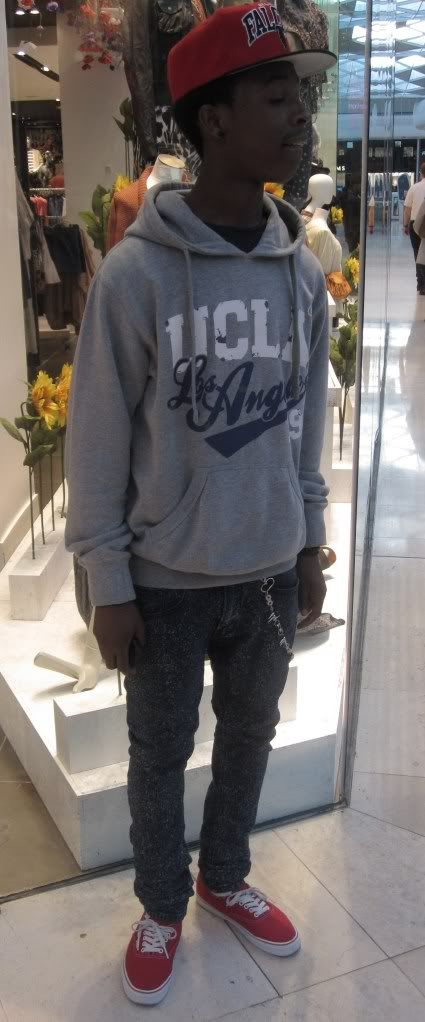 1. calm casual and cool
(i did ask before taking this picture :P)
this guy that we saw was standing outside topshop when i spotted him. i really like the way that although wearing simply a hoodie and jeans, the paint splattered pattern and slim fit of the jeans made the outfit express his personality more and looked just that little bit different from the hundred other guys around westfields who were clearly trying to fit into what's stereotyped to look "good".
i also like the subtle matching of the red vans and the red hat, i'm not sure if this was done purposefully but it definitely adds a splash of colour to the outfit which is always good.
i think that a shirt could have also worked in place of the hoodie in this outfit or a zip up hoodie with a plain tee underneath.
vans and other similar styles of sneakers like these can be found at:
http://vans.co.uk/
http://schuh.co.uk/
http://www.office.co.uk/
http://size.co.uk
similar jeans can be found at:
http://www.attitudeclothing.co.uk/
http://www.bluebanana.com/
http://www.atomretro.com
similar hats:
http://www.neweracap.co.uk/
similar hoodies:
http://www.topman.com
http://www.urbanoutfitters.co.uk/
http://www.riverisland.com
http://eu.levi.com/
----------------------------------------------------------
2. smart, chic and sophisticated
i had just lost all hope in finding a girl who was dressed well when i saw this cute well dressed couple just sitting down to lunch so i had to interrupt and ask if i could get a picture!
first the lady:
overall i think the outfit she was wearing looked great! earth and autumny colours are all in fashion this season and this lady has put her outfit together amazingly!
i love the chiffon off white shirt with the high waisted tan skirt. the colours compliment each other so well and the loose black bow around the collar of the shirt looks great because it makes the outfit look so much more casual and natural. then i think the subtle matching (i do love my subtle matching :P) looks great here as the tan of the shoes matches the skirt, but they're not overly statement and they really suit the outfit.
and as for the satchel bag, i really need to get myself that exact one! it goes well with the outfit because although it's still brown, it's not exactly the same so it stops it looking over-coordinated.
similar items to these can be found in almost every high street store, but in particular:
http://shop.hm.com/gb/?action=viewhome
http://www.topshop.com
http://store.americanapparel.co.uk/
http://www.urbanoutfitters.co.uk/
and the gentleman:
the blazer and jeans coordination i can't fault- smart but the jeans keep it casual. i like the way that the jeans and blazer are also both different shades of grey, because if they were different colours then there's a lot of room for colour mis-matches.
chinos would also have worked well with this outfit instead of the jeans.
the cuff out of sleeve shirt is a nice touch as well because again it brings out his personal style and taste without overdoing it. then the dark under layers suit the outfit, keeping it smart.
finally, i really like the trainers with this outfit, because the colours are quite sm
art and simple, the trainers bring back the casual side of it and i like that.
similar items to these can also be found in most high street shops, but especially:
http://www.topman.com
http://www.uniqlo.com/uk
http://www.lyleandscott.com/
together i think that these 2 look really good together, no clashing colours and i especially like how he's wearing grey, and her shirt is very light off white grey.
-----------------------------------------

3. reggie yates!
chat show host and tv presenter reggie yates zoomed past us when keisha caught a glimpse of him and we caught up to say hello and asked if i could take a photo for my blog!
he was really nice and cool, although he said i wouldn't want him on my fashion blog because he didn't look very nice :P i think he looks really together and cool!
jean jackets are all "on trend" this season, and although i'm not usually a fan of shirts poking out under jackets, reggie has definitely made me change my mind!
i really like the simple but sophisticated casual outfit he went for. the white shirt and jean jacket go perfectly, with the comfortable green v neck underneath go well together.
and the chinos although aren't the same colour they really work here. what i like about this is that he looked great for just popping out to do a bit of shopping, but if he buttoned the shirt off, rolled up the sleeves and thre on a skinny tie the outfit would have been fine for a more smart event.
the light grey dusty colour can pretty much go with anything and the trainers here look good too. vans or loafers would also have suited this outfit.
jean jackets and shirts like this can be found at:
http://www.hollisterco.com
http://www.superdry.com/
http://www.urbanoutfitters.co.uk/
http://www.lyleandscott.com/
http://www.topman.com
http://jackwills.com/
http://store.americanapparel.co.uk/
for simple tees i would recommend:
http://www.topman.com
http://shop.hm.com/gb/
for chinos:
http://www.savilerowco.com
http://www.newlook.com
http://www.topman.com
http://eu.levi.com
and for the trainers:
http://vans.co.uk/
oh and if you were wondering what i was wearing today -
i went for simple and warm :) a patterned jumper with a plain pencil skirt (both h&m). a cool scarf i won a few years ago from http://www.lazyoaf.co.uk/ and a plain navy baseball style jacket (american apparel)
i hope you've enjoyed reading today :) i'll definitely be doing more street style and so i hope you enjoyed it. a big thank you to the people who took part :) ronan xxx