hey everyone! i haven't blogged in over a week i know!
it's because my bloody laptop has been running so slowly that i haven't been able to! but thankfully my lovely sister siobhan (www.siobhanmckenzie.co.uk check it out if you haven't!) has lent me her laptop until mine's fixed so i can blog again! woohoo :D
so how's your week been? mine was alright :) school school deadlines school.. but the weekend makes everything better right? :)
so anyway today i wanted to talk about a few things, one being one of the biggest fashion events of the year that i actually had the opportunity to visit on sunday 27th of february..
london fashion weekend is where the "hottest" designers such as twenty8twelve, dkny, ruby london, papa razzi and pistol panties, show off their work to thousands of people over the week. including a catwalk with designs from w
illiam tempest, ossie clark, bora aksu, mark fast, halston, bodyamr and harles anastas.
it sounds like london fashion weekend should have been amazing... but to be honest, i was sorely disappointed! london fashion week was in somerset house, so of course each different shopping section was on a different floor which wouldn't have been bad if the shops were any good.
each room was for a different shop/brand and all they contained was the designer rejects, the stuff that was probably left in the storeroom and the designers wanted to flog. this was really disappointing because i thought that london fashion weekend would be even better than the clothes show which was also a clothes and fashion event, but london fashion weekend was just a place for bad designers to dump their junk.
i went with my friend keisha (
http://myrevolvingfashionworld.blogspot.com/
)
and siobhan, and as we travelled from each room to the next we were more and more disappointed :/ we entered london fashion weekend at about 12:15 and by 12:35 we'd pretty much seen everything on offer. although we had lost almost all of our enthusiasm, we were optimistic about the fashion show which was on at 1:30 so we sat down in the overpriced, jammed café and enjoyed a chocolate brownie and some drinks.
when it was time for the catwalk, we'd paid for £40 tickets, so we were pretty excited to see what it was going to be like :) the first disappointment came once we were in the queue, it turned out that as london fashion weekend was sponsored by vodaphone, vodaphone customers got vip tickets even though the tickets were the same price, and they got all the front seats, and to go straight in to the catwalk instead of queueing which didn't seem fair. secondly, i was pretty disappointed to see that the calwalk wasn't on a stage.. we were lucky enough to get second row seats (as all the front ones went to vodaphone customers) so although having an alien head-shaped-lady sitting in front of me, i could see quite well.
then the catwalk started, which was the highlight of the whole experience. some of the outfits were horrendous, some of them were pretty cool, nothing blew my mind, but i managed to get a few photos and here are some of them. mind you the lighting is pretty bad but you can see a little :)
this model couldn't walk in the heels and this dress is hideous
i'm not usually one for sparkly things but i really like this
this is the same designer that designed eliza dootlittle's brit award dress
i really love the colours and this outfit :)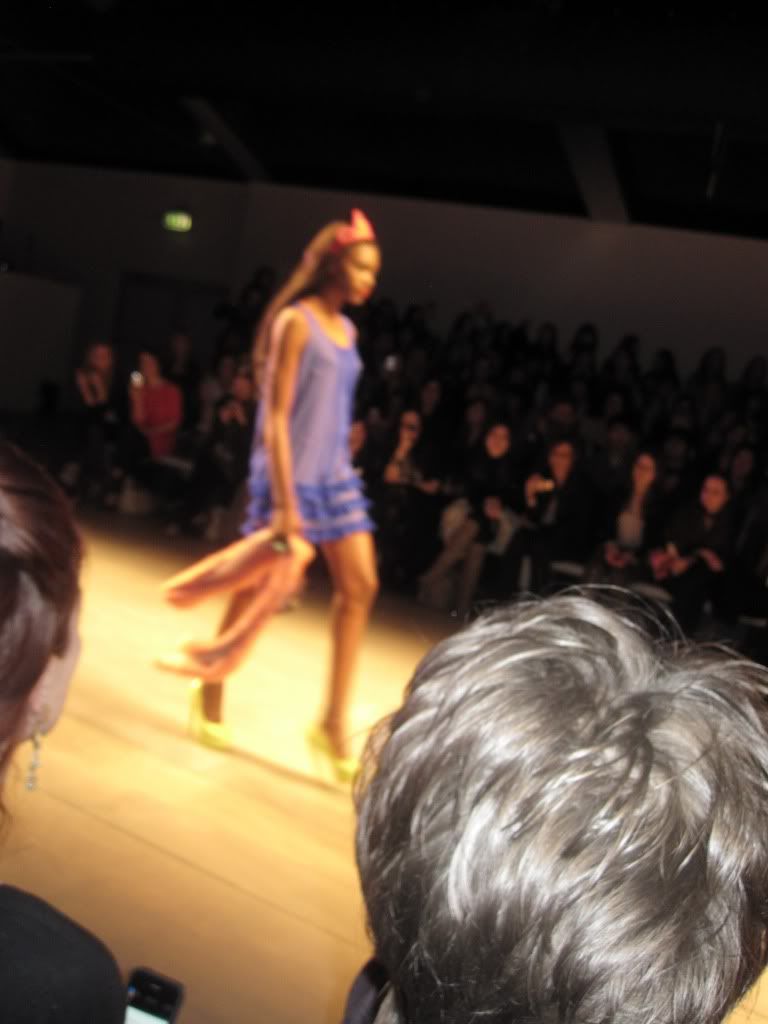 this model seemed to get the horrible... things...
top half's okay, bottom half is a disaster. but the shoes are pretty cool :)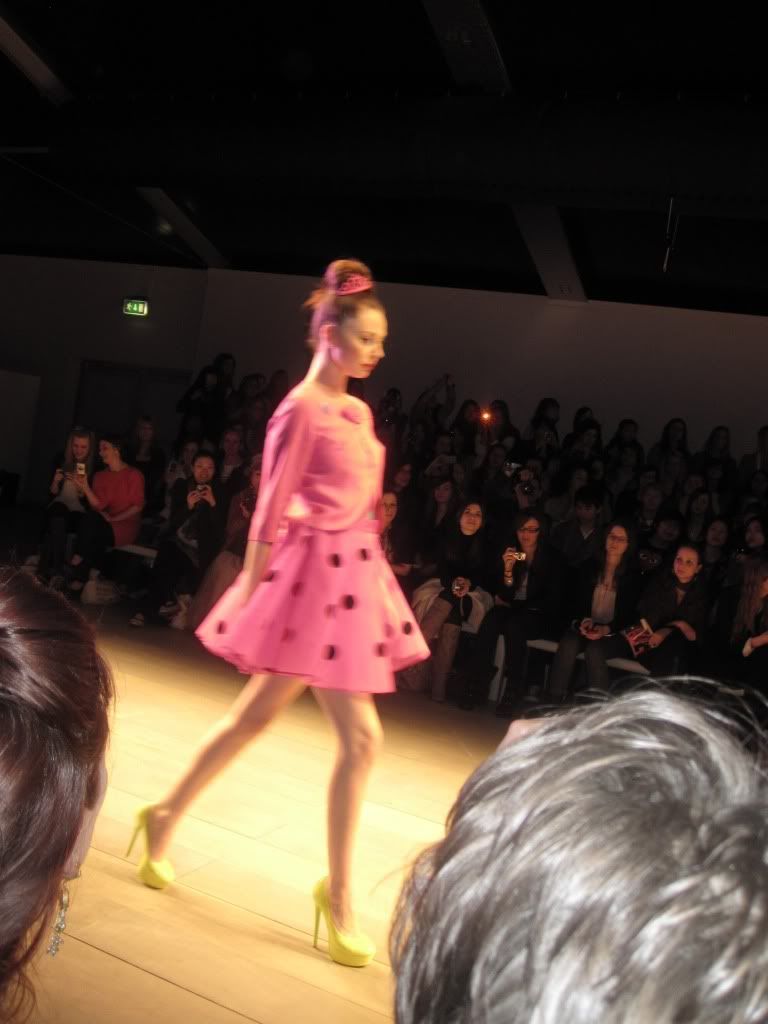 i loooveee this! excluding the cardigan over shoulders thing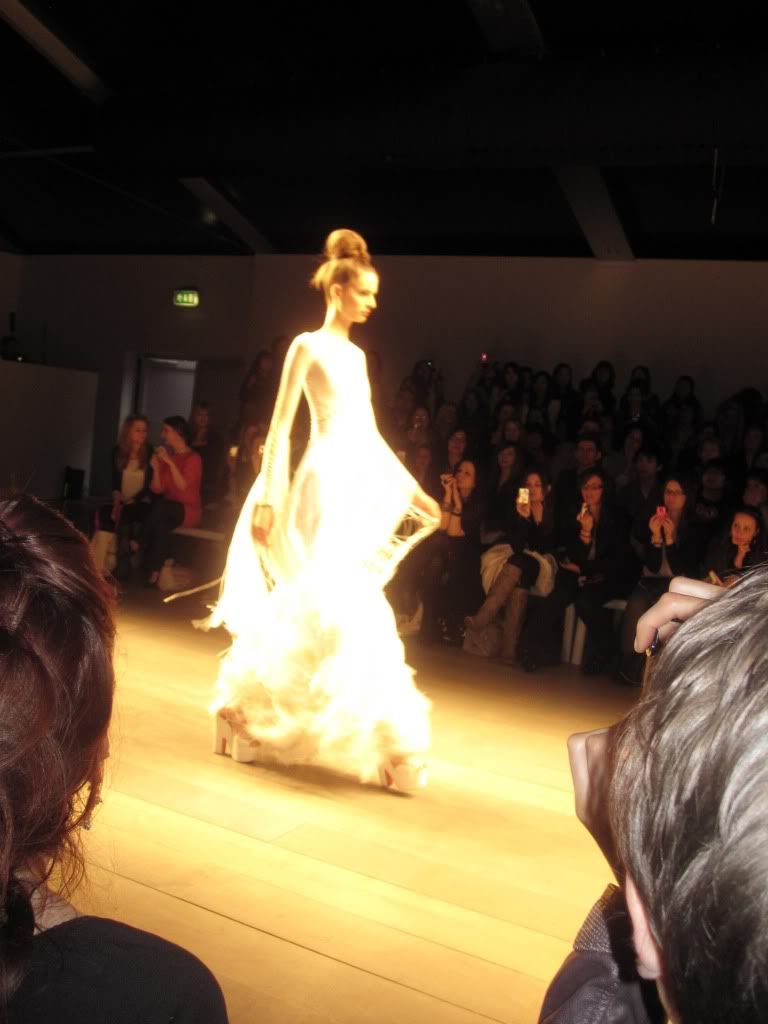 this reminded me of the snow queen or ice queen from narnia
so as you can see some of the things were good, and some not so good. i took about 80 pictures in total but these were the best ones i think :)
i loved the catwalk! it was nice to see some of the models smiling down the runway, and also human imperfections in them like cellulite and terrible posture. people thinks models are so perfect so it was sort of good to see that they're normal just like the rest of up :)
the catwalk it was definitely the best part of the day although i definitely wont be going back to london fashion week, i'll save my (dad's) money :P.
------------------------------------------------------------
when i got back to walthamstow from london fashion weekend, keisha and i were quite disappointed that we hadn't bought anything! so we popped to superdrug to get some new nail polish for my collection.
keisha had told me about a new barry m nail polish that shatters after you put it on to create a cool broken effect. that sounds ridiculous "a cool broken effect" but i'll show you what i mean :)
1. remove any nail polish
( thought i'd take this opportunity to show off my long nails at the minute :P they're real i promise ;))
2. paint your nails the colour of your choice. this is an amazing royal blue new nail paint. barry m (£2.99) really good quality, this colour came out in one coat :)
3. paint on this barry m nail paint shattered effect polish (£2.99 - two for £5 in boots). and within seconds as it dries, you're left with this effect which i quite like. but i'm sure everyone has their own opinion. i like it but i think maybe if it was white it would be better because it looks quick gothicy with a dark colour underneath. though mind you i showed my mum and she thought i'd got my nails caught in the door :P
but there you have it!
-----------------------------------
as now i only do a big/focussed blog every few days, i've decided to start doing an outfit of the day blog so that there'll be something new on my blog every day, and because there's so much one could say about fashion, i want to give the fashion world a bit more of my input :) also, more street style coming very soon! :)
-------------------------------------
last but not least, for those that don't know i'm a gcse art student, and i'm also really interested in photography, and so for my project that i'm doing at the moment, i wanted to take a picture that denotes a mood for me to draw:) and i really like the photo although a little sad, and i thouht i'd share it with you.
(don't worry, the tears are just water splashed on my face :))