hello :) hope you've had a nice week!
i haven't posted since monday i know, and i said i was going to be posting more often! i was just really busy with school and athletics and stuff this week, and i didn't want to do a rubbish post so i didn't! but i promise more next week :) i'm going to do a blog about bags and some more things, but today i'm going to talk about what i wore yesterday :) it'll be interesting i promise.
yesterday, was the warmest day of the year so far! warm enough to leave the coats in the wardrobe which was lovely. but during the day, all i did was go to sainsbury's which didn't call for a big dress up, but i got to get a t shirt i hadn't worn in ages out and i quite like my outfit :)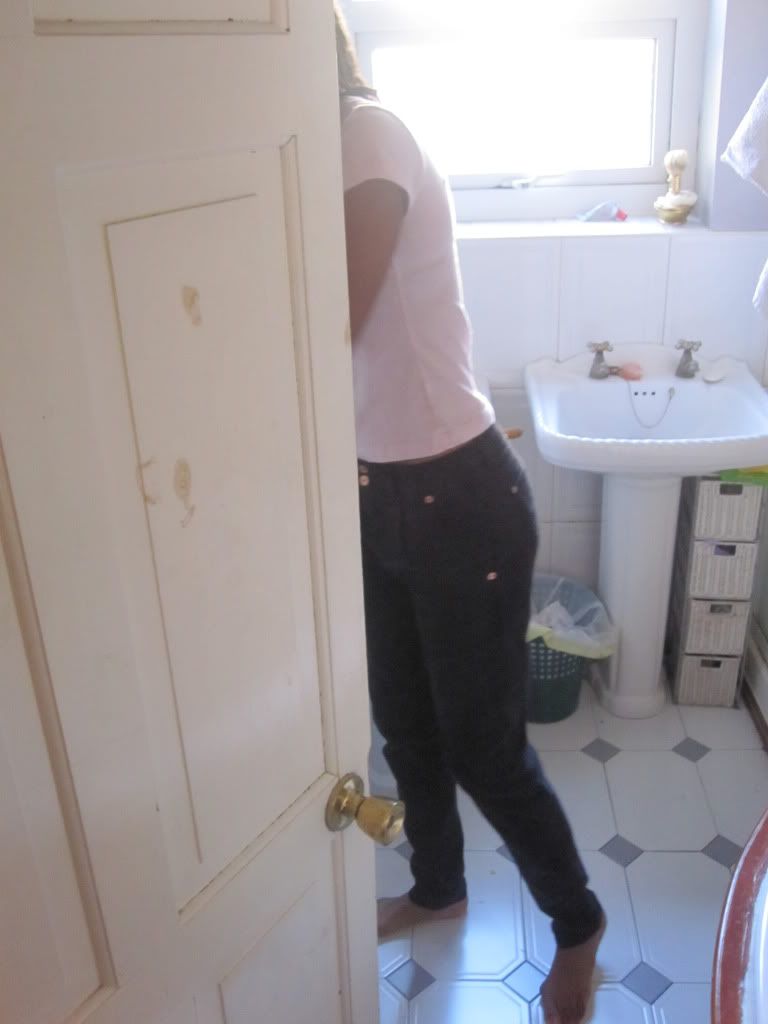 so just to pop to sainsbury's i put on this jimi hendrix tee that i got from camden for £5 quite a while ago, with these black "tapered" topshop jeans £45 that i love because they're really comfortable and then in case i got chilly i took along this grey slim fitting hollister hoodie £35. and my toms because i sort of live in them at the minute :P
i really like this outfit because it's so simple and took me about 5 minutes to put together but i think it looks good :) nothing spectacular but simple and chic. (whatever chic means :P) oh and my brother took this picture while i was checking for spots but i liked it so :P you can get this style of jeans almost anywhere, but i'd recommend topshop because the quality and fit is really good :) i'm wearing a w25 l32 here and they're comfy :) tees like this i'd recommend topshop again, priced about £18 on average, but also h&m, david and goliath or camden or a bargain. i'd always wear baggy jeans
with a fitted tee or hoodie to get some shape into your outfit :)
------------------------------------
in the evening though, it was my friend alicia's birthday meal, and because it was at chiquitos the theme was colourful. so everyone had to dress really colourfully :) not a problem for me because i love colour, the only problem was deciding what to wear :P something smart but casual and eventually i decided on this -
i decided to wear this bodycon dress - topshop £22, white lace tights - topshop £12, a purple baggy cardigan - topshop.. can't remember how much, a vintage thick flanel jacket shirt £15 camden, chunky pink scarf which is actually a birthday present from alicia and nike 6.0 trainers - £60.
i really like what i was wearing because i never really wear the lace tights because they have potential to look a bit riskay, but i thin they suit the outfit here. i was going to wear a checkered shirt with this but i didn't know if it would be too much colour so i asked my trusty amber and we agreen the purple cardigan suited better :) i then went for the shirt jacket because although it's a different pattern, it's not bright so it doesn't look like a mishmash of colours and also, it's long enough to go over the cardigan so it didn't look silly. i then painted my nails orange (rimmel) to get an extra bit of colour in, and it matches the dress a bit, then the pink lipstick, eyeliner and purple mascara because why not? the scarf as it's a block colour doesn't clash, and just adds more colour as well as keeping me nice and warm :)
oh, my trainers i bought ages ago, and i love them. because i wasn't wearing coloured tights, the trainers didn't clash and look cool i think anyway:)
i like what i'm wearing here and i think it's not too smart but not too casual and i felt good wearing it which is always the main thing :)
amber looks amazing as usual and so cute wearing this boat dress - topshop £36, cardian - urban outfitters i believe £45 (also available in green, pink, cream, baby blue, red, plum and yellow) , red belt- unknown :P, yellow dr martens - dr martens £81.
i really love what amber is wearing, the outfit as it should brings out her personality and also looks great:) the dress is lovely, and she's added the red belt which brings out the colour in her dress and lipstick also which looks really sophisticated :)
the navy cardigan is big and baggy but the perfect size because any bigger and it'd take away from the outfit, and any smaller and it wouldn't look as nice. i like the way that it matches, but looks effortless and tidy which really suits amber. i love the dr martens she's wearing with this because it's a big splash of colour which really suits the rest of the outfit. it's always brave to wear a completely different coloured shoes to outfit but here it works so perfectly, simply adding colour and an amber stamp of style.
she's also wearing a cute little necklace, which is a little bit of accessorizing to make the outfit look complete :) amber looks good and it really suited the occasion :)
-----------------------------------------
thank you alicia and everyone else for such a lovely night :) i hope you enjoy reading and have a great rest of sunday :) ronan xxx