happy boxing day everyone :)
hope you're as comfortable as i am sitting down to watch eastenders, hoping that janine dies for sending stacey away! :P anyway, my day started at about 12:40pm this afternoon. i rolled around trying to get back to sleep for a little while before disappointingly realising that i really needed the toilet. theres goes that amazing dream i was having. great. but in the spirit of christmas i jollied up, and sprung downstairs to see who was awake and as guessed. i found siobhan lying on the sofa watching vampire diaries, and dad with a massive smile on his face (as per usual) pottering about in the kitchen.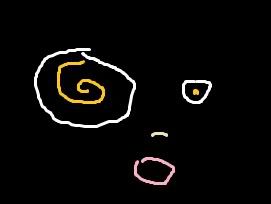 my rendition of ronan playing sims. ask for a copy ;)
i had a look in the kitchen and retreated to the living room with my breakfast - a flexi-jammy dodger, (whether it was meant to be flexible i don't know), a spidey brand orange and a glass of "breakfast juice". i don't want to know why it's called breakfast juice and not juice belonging to an actual fruit :P anyway, siobhan said that i could play sims! so that entertained me for the next few hours and i definately think it's a great game! i mean the dance moves have gotten better for one ;)
anyway, after hours of fun on sims, ( my game freezing, losing my progress and having to redo it all) i had another wonderful christmas-type dinner with les mckenzies and sat down to try out my new nail painting kit thing i got from siobhan :)
-----------------------------------------------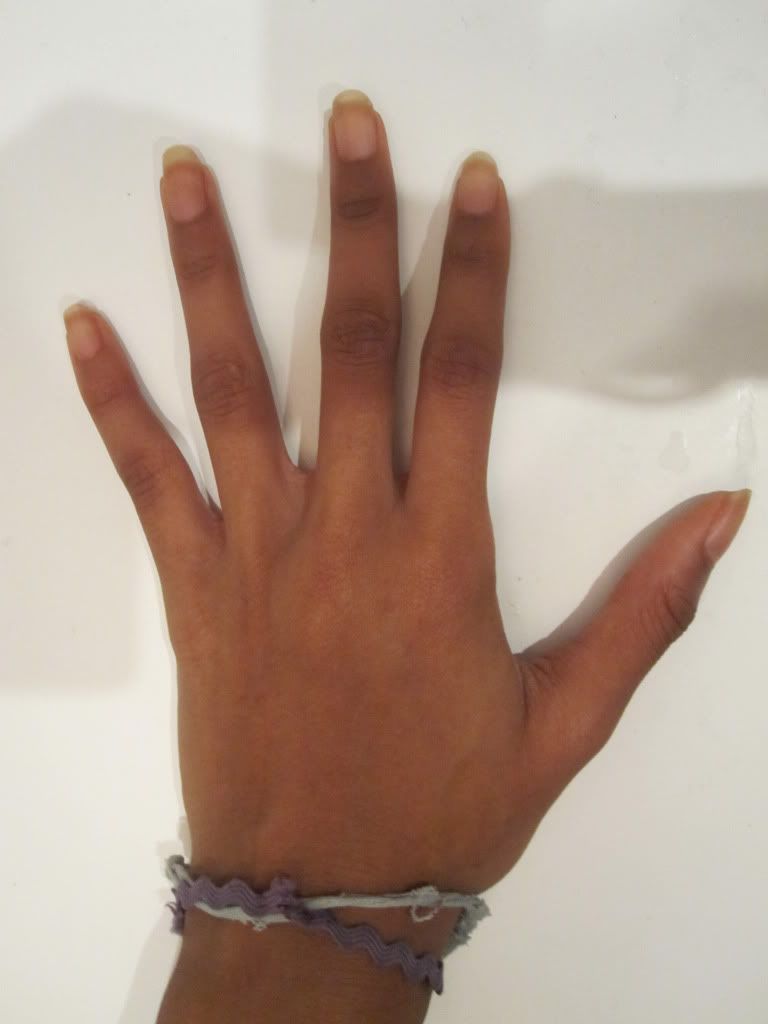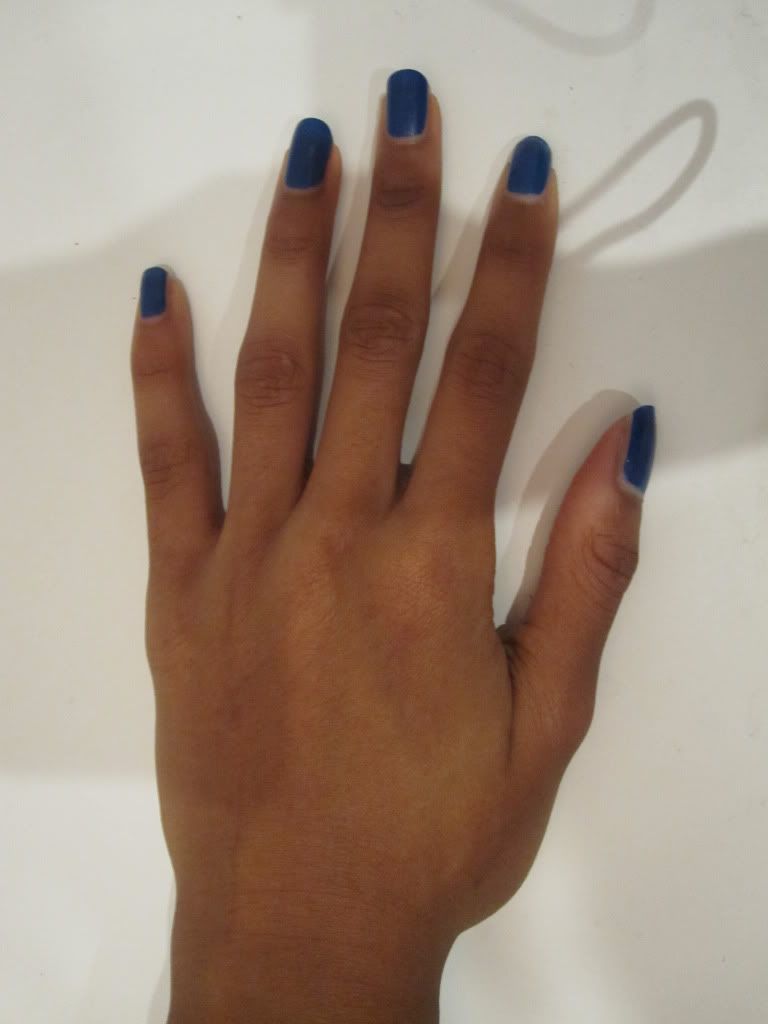 the set comes in a little box, but my computer is being stubborn and wont let me upload the photo :) anyway you get 8 colours, yellow, red, white, blue, green, orange, silver and gold.
here are pictures of what i did with mine.
the polishes they give you are very very fast drying which is excellent because you don't have to wait long for your nails to dry in between putting layers on. the set comes with lots of ideas on ways to paint your nails and also; gold glitter, dimantes and a spare brush.
i'll take you through my steps:
1. i cleaned my nails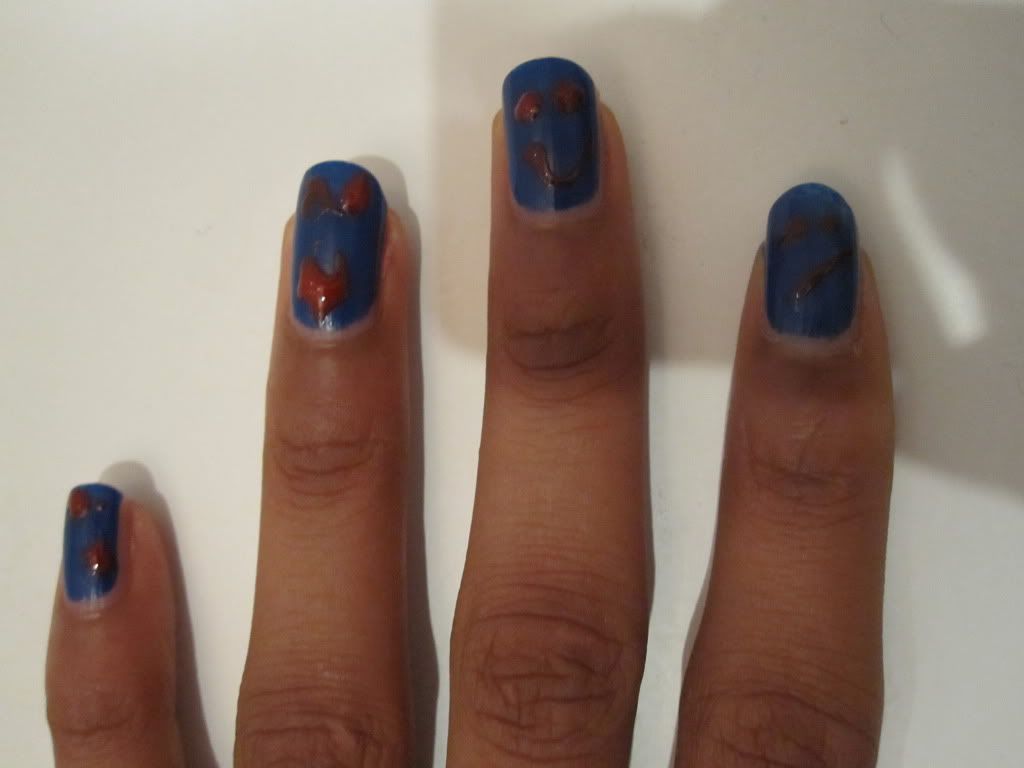 2. i painted on navy nail polish ( that came with the set) with the largest brush. i put 2 layers on so that the colour was solid and not translucent.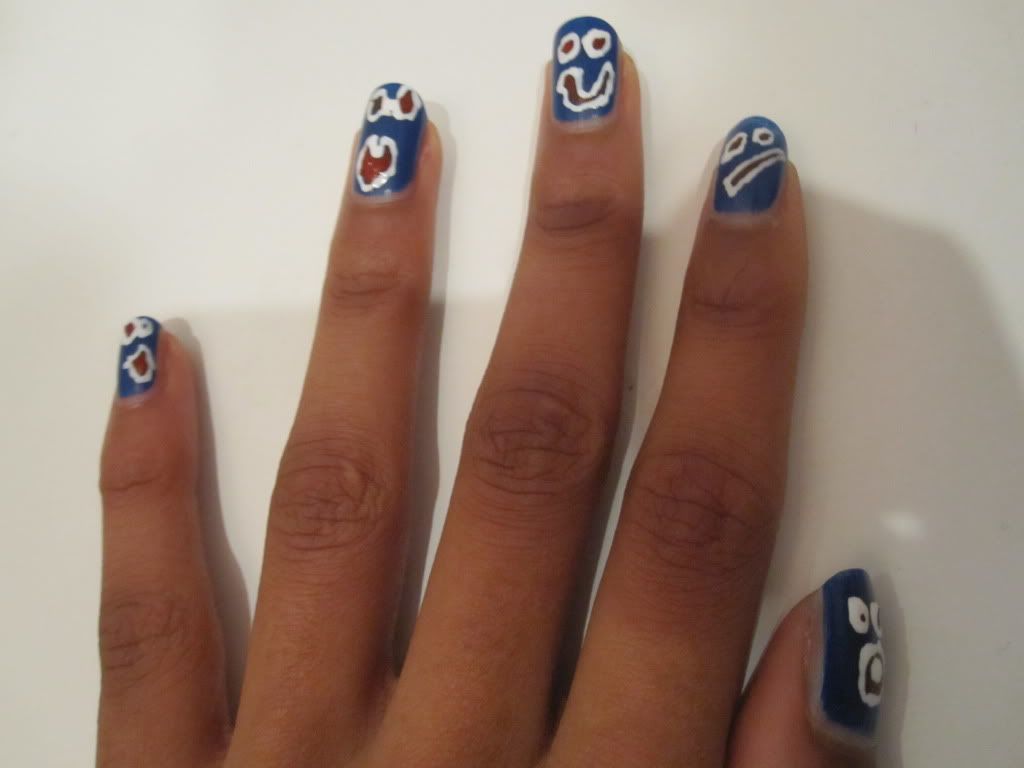 3. i painted on red smiley faces with the medium sized brush.
4. i outlined the smiley faces in white, with the detailing pen which resembles a very thin ink ball pen. i was really happy with the outcome... of my right hand anyway :P so voila. that is the rio fine nail set and i'll definately be trying more styles and i'll put photos up when i do :)
----------------------------------------------------------
alexa chung vs cheryl cole style wars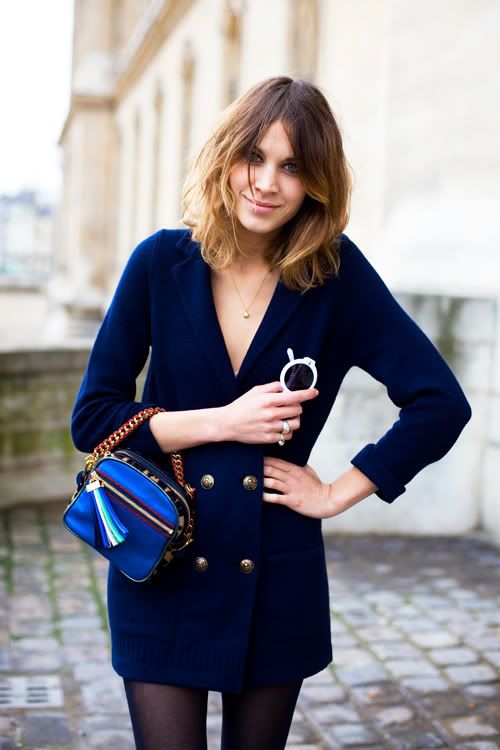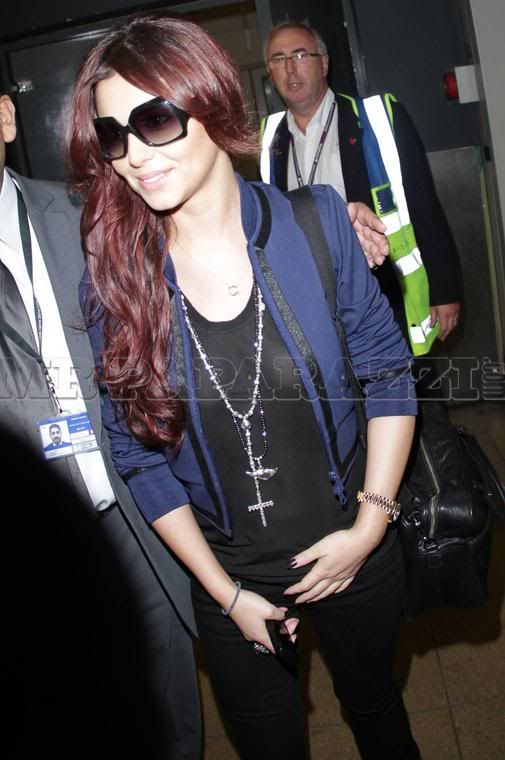 okay so everyone knows alexa chung and cheryl cole for modelling and presenting, and they both have similar styles. but i thought it would be interesting to see that although they wear similar things, who wears them better.
------
cheryl cole - at 11 got into the royal school of ballet -> girls aloud member -> turned "i corrll it faive stahh ceer foh ghreet brettesh heer" (loreal advert model- i call it 5 star care for great british hair)-> and judge of one of the worlds most popular talent contests. and i think she's great! she's been through so much this year as most of you already know; a hard divorce with major speculation, contracting malaria, being named a racist for not letting gamu get through on the x factor, and she still seems to look great with her million dollar smile :)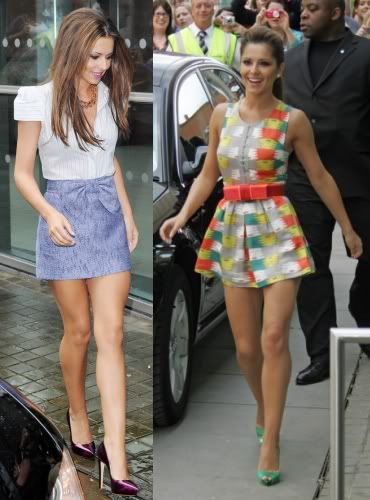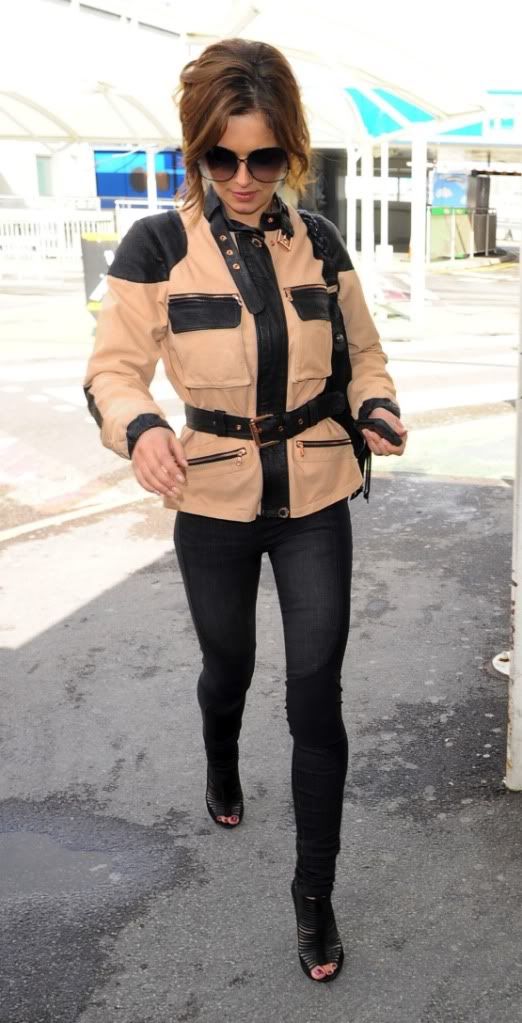 in the picture far left i think what cheryl's wearing suits her. although i don't really like the way that the shirt fits into the skirt because it's tucked in and a bit puffy but not baggy enough to look purposeful. then as the skirt is straight and not a pencil it doesn't give her much shape. i love the checkered dress and can't fault it :) same for the next photo (leather looking trousers) the outfit is simple but nice and the blue cardi and red shoes give it colour. the next 2 are probably the only outfits that i really don't like. cheryl just about pulls off the "you've been tangoed" orange but then the heels and leopard print bag.. hmm. the next one of the white skirt, i go with the "legs or cleavage" rule and not both cos it has potential of looking a bit... trashy. and in the white dress i think there's a little too much of both for and it ends up not looking very classy. next, i like the simple blazer-jeans combo and it looks like a natural style choice for her like the last outfit too. i personally don't like the last outfit because i hate the jacket :P it's just not me, but i think it suits her :)
-------------------------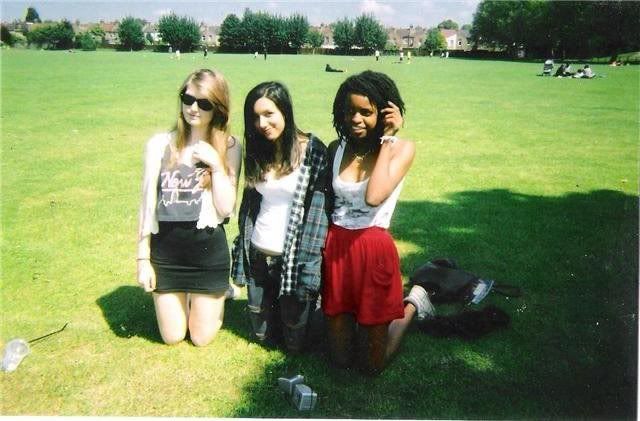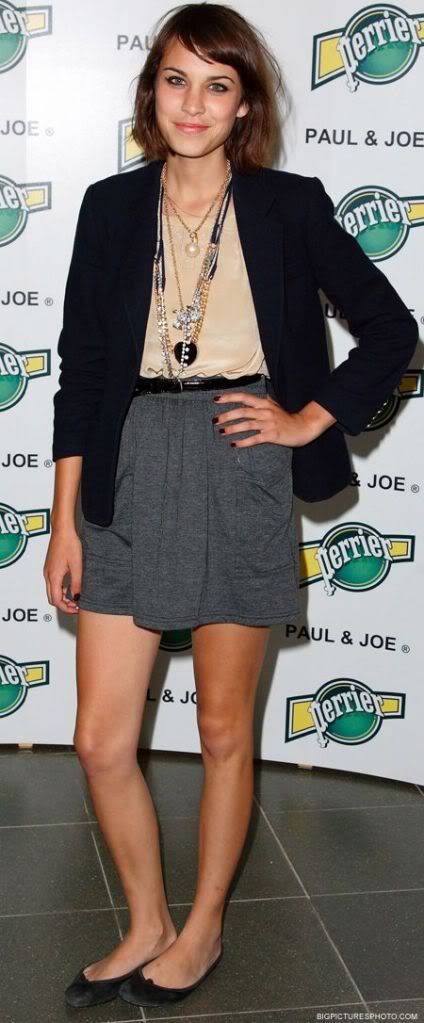 alexa chung - started out as a model for storm model management when she got scouted at reading music festival when she was 16. but after 4 years she quit because she felt that it made her too self conscious and turned to journalism. and then got into tv presenting in america and currently in the uk when she's not going to gigs of her boyfriend and lead singer of the last shadow puppets - alex turner. but her style is bold, trendy (gosh i sound like my mum :P) and cool and i really love her style. i really like the way she puts things together (usually) and in fact i actually have the skirt she's wearing in the photo on the left! (mine's red ;) American Apparel)
you can't really see the outfit far left but i like the blazer :) i like the plain top and necklace to jazz it up combo also.
the second picture- i hate peeptoe shoes. i think the old lady down the road with scraggly toes ruined them for me haha. but i like alexa's black and white theme. i prefer shorter coats on myself and i think the outfit would've been nice if it was short but it suits alexa here.
the third outfit is just a coat but the stripy top underneath that you can sort of see shows her personality and the bag is lush. brown goes with everything ;) and i really like the double breasted buttons on the jacket. 4th outfit - i'm not sure about the skirt. like for one of cheryl cole's photo's, i think the outfit would be nicer if the skirt was a pencil. because it'd give her more shape. but i love stripes and i like the shoes too :) i don't actually like the 5th outfit. i hate the jacket for reasons unbeknown to myself but i love the shoes. and in the last outfit, i absolutely adore the colour of her jeans! sort of indigo-washed-colour. and they suit the clumpy shoes :P but i don' really like the coat. cape type coats are nice but this one looks like a horrible shawl that an antique store threw away! :)
-----------------------------------------------------------------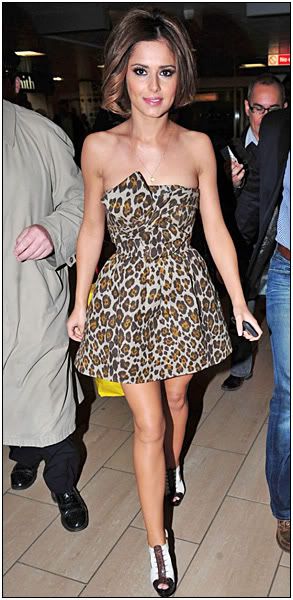 so alexa or cheryl.
i found a picture of each that i think they both look lovely in :) it's quite a hard one but i think the winner for me is alexa because overall i prefer most her outfits. this lace dress looks lovely on her and would be most flattering to the majority of people.
although i also love lots of cheryl cole's outfits, there are more that i don't like than there are for alexa chungs. i'd love to hear if anyone else has other opinions though :)
-------

thank you for reading and i hope you enjoyed my blog and had a lovely boxing day! tomorrow i'll be doing a little review of the cosmo[politan] magazine website :)
that's all for now, ronan xxx