gooodd evening :) hope you had a lovely day!
december 27th isn't really a significant day at all is it... it's sort of just the day after the day after christmas. when you eat christmas leftovers, flat lemonade and DIY bucks fizz, cracking open the tired looking christmas crackers that are left. but hey! it's sale time! i only like christmas sales online. in store it's just too busy, everyone's in a rush and there's ALWAYS a fat smelly man towering over you on the train who seems to find something very interesting down your top. no thank you!
instead today, i went ice skating with dad, janelle, marcel, siobhan and aaron (siobhans boyfriend). which was great fun :) it was meant to start at 1 30. so of course we got there at about 1 35 - always being late of course. and i sat smugly putting on my own white figure skates while the others faffed about with their hire ones :P anyway, we got onto the ice -dad at the side watching lovingly with a smile on his face as usual- and started skating. we noticed a very rowdy bunch of short, shrieking american girls in cheerleading jackets slipping around on the ice.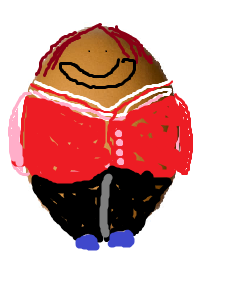 so we were having our fun skating around, me showing off just a tiny bit. 'cause you have to in those situations! and i was skating around, playing games with janelle and marcel when the americans bombarded me and surrounded me! "teach us a trick!" they screeched, "you skate! you have those fancy skates on! we wanna see a trick!". i don't like being forced to be the centre of attention so i looked to my janelle for help but unfortunately got none. "we're american!" i thought, REALLY?! i'd never have guessed with those american accents and american varsity team plastered accross your backs! "we're only here today, show us a trick!" i really didn't want to do one. the picture of the egg coloured in is exactly what they looked like! "we're cheerleaders! tell us your name we'll screech it!" didn't look like cheerleaders to me! imagine 10 of those eggs surrounding you and refusing to leave! i'm not american. i'm not used to the forwardness! but in an attempt at getting them to do, i did the most anti-climaxed unimpressive hop EVER in the history of ice skating. even i was embarrassed at the poor poor quality of it! but, it did get them to go away even though they "don't believe that's the best you got!" they left about 5 minutes after ending the ordeal! and at the end of a session, we all went on our annual trip to kfc and then finally home for a slap up meal of leftover christmas stuff and delicious roast lamb before watching eastenders. (why wont janine die?! by the way. and connor resembles billy goat's gruff)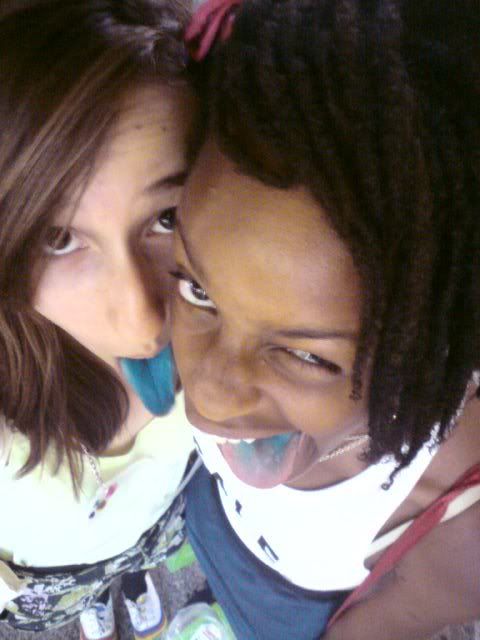 -------------------
bergue.
i wanted to have a short, separate little section for bergue. bergue is one of my closest friends amber. (amber - ber - berger - bergue) and being the frienddd that she is, has also started a blog, because i asked her to for moral support when i started mine :D and she did! http://dougallovessugarlumps.blogspot.com/ it's hilarious, just like her (occasionally :P) and i just wanted to thank her for doing it for me, and really being a great friend :) oh, it's called dougal loves sugar lumps because of a little song we made up for the magic roundabout. it's a kids film yes, but it's great ;)
---------------------------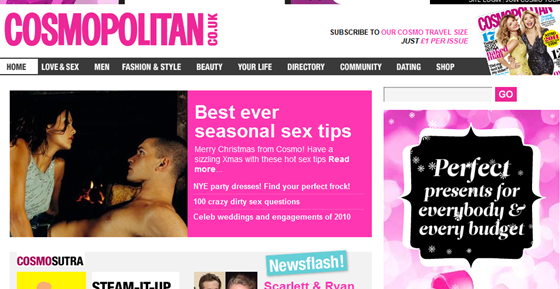 cosmopolitan website.
okay so, i don't know how many of you read cosmo but it's a monthy magazine. it's the same sort of mag as glamour and elle. i get it all the time because it's such a good read! it's got loads in it and it's so easily readable! but i wish i could say as many good things about the website.
for starters i think that cosmo could appeal to such a wider audience but it narrows it down so much by putting so much sex into it! i mean you go on the website and it's the first thing you see. and if i didn't have older sisters who opened me to the big wide world of glamour magazine when i was 8, then my mum would probably have a problem with it now!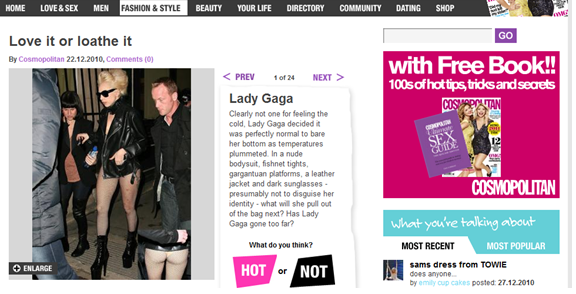 the website looks good which is fine, and it's very easily navigatable ( think i made that word up but still :P)
this next picture is of the fashion section. the main page. obviously because i'm interested in fashion it's the main part i'd visit. but it has a picture of lady gaga wearing something. or not wearing something and then a big "hot or not" sign which the readers vote.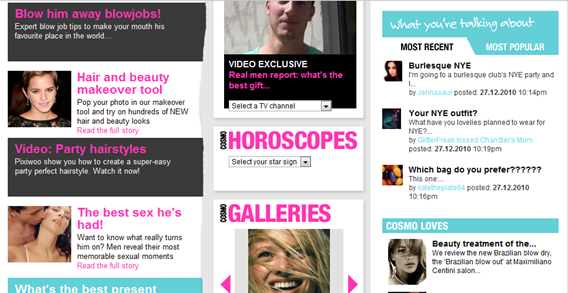 i wont say i didn't vote, but i don't think it's very fair because it's encouraging people to be judgmental. and if lady gaga does see it, it wont make her feel great to see how people think of her. people forget that celebrities are people that have feelings too.
this next picture is just the rest of the page. it's good because it pretty much shows what the fashion and style section is about. straight forward. bosh. done. and that's what most of the site is like which is why i think it's good but could be improved.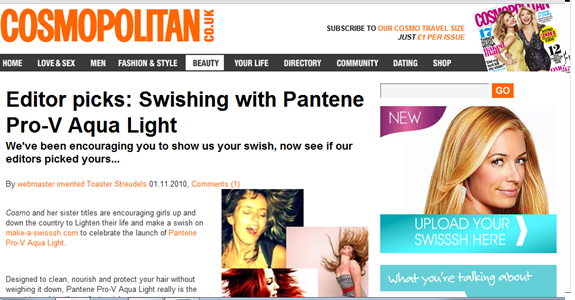 the next bit of the site that i want to mention is the beauty section and i want to mention it because although a minor detail that probably only i notice, i think it's really important.
it's the editor's pick, and it's a "swish wish pantene" competition type thing for readers to send in their photos and you can see who can "swish their hair" best.
the problem i have with this is that it would be very hard for me to join in with this because i can't actually "swish my hair"
you can probably see what i'm getting at here. but basically what i'm saying is that unless you have european/straight hair, it's virtually impossible for you to swish and sway your hair all silky smoothly like cosmo is saying here. and the problem i have with that is that cosmo is excluding people with curly, afro, "black", tough or even just thick hair from this which i really don't like.
i know its not purposeful and i'm definitely not saying that cosmo is racist or anything like that but little things like this is what drives people to try and thin out or straighten their beautiful thick hair, to join in with these sort of little games. you might now be reading a magazine and notice it more, or notice that all the hairstyles that they rave about, minus one or two are all for people with straight hair and that is the only thing i don't like about cosmo and similar magazines and the website proves this. all the photos of the girls swishing their hair have long straight white hair and i'd hate for people to think that that's the only beautiful kind of hair.
anyway, before i start ranting on and on :P i better get to bed! tomorrow i'll be doing my day in pictures so stay tunedddd! thanks for reading :) ronan xxx