just got an outfit post for you all tonight, hope you're well :) i'm sitting here with my dad, sister and brother watching dynamo. are any of you watching this?! i thought penn and teller were good but dynamo is doing some proper magic stuff like bringing plastic butterflies to life.. seriously! 9pm on watch, you've got to watch it if you missed it tonight! before i would have thought dynamo was a cheesy name which the likes of mr bean would use to try and chat up an unsuspecting woman but i was wrong haha! you all need to watch this show!
so today, i caught up with some friends, and then went up oxford st to find a maxi skirt that i love! but the size 8 fell around my waist and they didn't have a 6 in stock or online because it's last season but i ordered a gorgeous one from asos so i'll show you it in a couple days :)
here's what i wore today:
-------------------------------------
so i did something different and decided to take my photos in my gym for a change.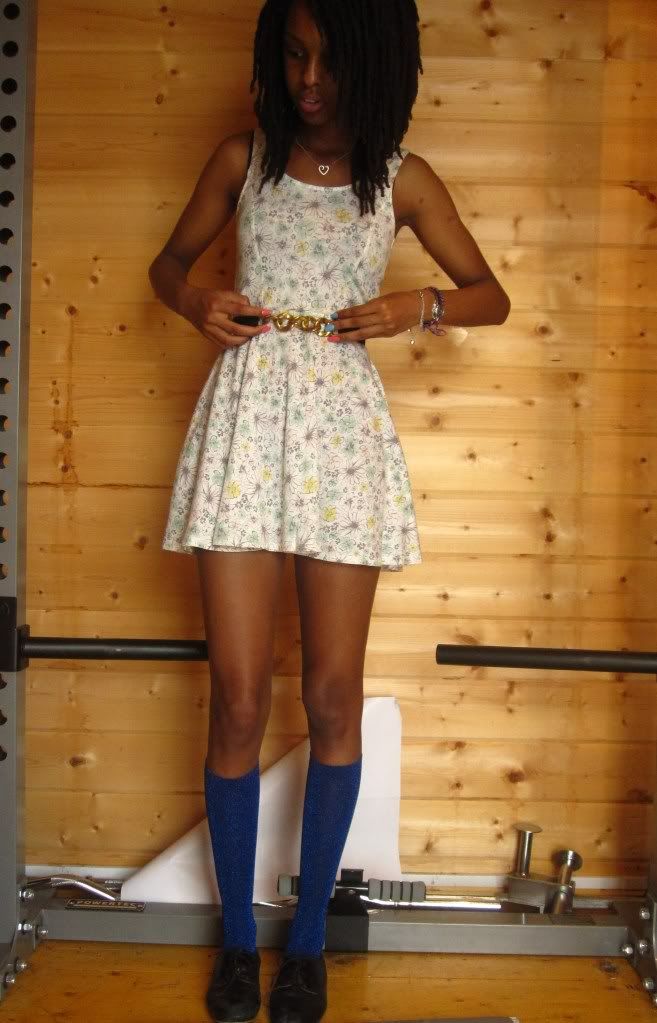 i love the shape of this dress because it compliments my figure without being a bodycon. it's a great cut for majority of shapes and sizes.
i'm usually not one for wearing my school shoes outside of school :P but these shoes were just perfect for this outfit and with the socks so i went for them.
belt (formerly a headband) - river island
i love the low cut back and high cut front because it's different :)
i've mixed quite a few colours here but i like the purple of the cardigan, it gives it some matt colour to compliment and not take attention off my sparkly socks.
tabio is THE shop for socks and tights, if you haven't checked it out go and do it! -
http://www.tabio.com/uk/ such good quality and different things to what you usually get :)
-------------------------------
now you've finished reading, go and check out dynamo whether on catch up or youtube! (or you might be able to catch this episode on watch). also, i've just created a facebook page for m blog, so i'd love for you all to like it! the link's at the bottom of this page so like if you like! :) have a great week everyone, thanks for reading! ronan xxx