hope you're well :) i'm back from my little holiday in the country now and although i miss ruby, it's so nice to be back where the trains take 2 minutes and there's a shop less than 100 yards away :P i'll also be back to replying to all your lovely comments again and i'm looking forward to catching up on all your blogs tonight!
i spent my first day back in london working at the e17 designers leytonstone festival as a barmaid which was good fun. a lovely stranger told me that i was absolutely beautiful which was so sweet and i earnt a bitta' money that will go towards my billionaire boy's club sweater i'm saving up for :D
today i'm just going to show you the outfit i wore on the train back from somerset to kickstart my blog again so i hope you enjoy it!
---------------------------------
skirt -h&m, white lace tights - topshop
i missed my baby piana :)
i decided to put my hair up to gt my fringe out of my face for a bit.
i like the combination of the colour blocking with my top and skirt, with the patterns on my tights and trainers. it could seem like a clash but it just seems to work.
i love my jacket, it's warm, comfortable and goes with anything. i love that the sleeves are real leather and the exclamation mark at the back just makes it better.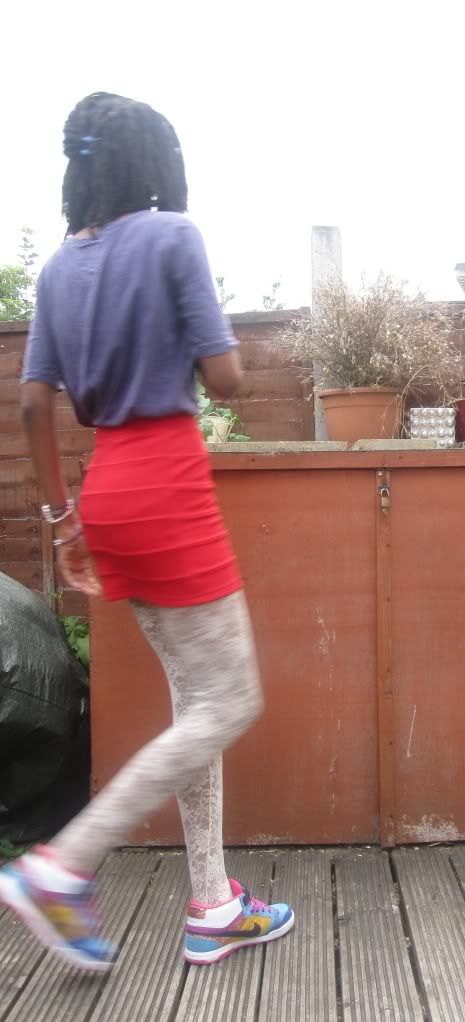 my white lace tights are starting to get a bit old, i think my washing machine may be tearing them up a little so i'm on the look out for a new pair, so if anyone knows where i can get a pair, let me know!
---------------------------------------
i hope you've enjoyed reading today! i've promised ruby that by the end of summer i'll have worn wear all my new clothes/clothes that don't see daylight much lots so i've got lots to show you! also, i've got a big treat for you coming up in the form of a new young fashion designer so keep reading! :) ronan xxx