hello again :) the weekend's almost over :(
but today, lots of high street stores have launched their new spring collections. so as i love shopping so much :P i went looking around 5 of my favourite high street shops and created these image boards to see and show you what i'd buy if i had an unlimited voucher! i'll explain why i chose what i have :) so i hope you love the stuff as much as i do!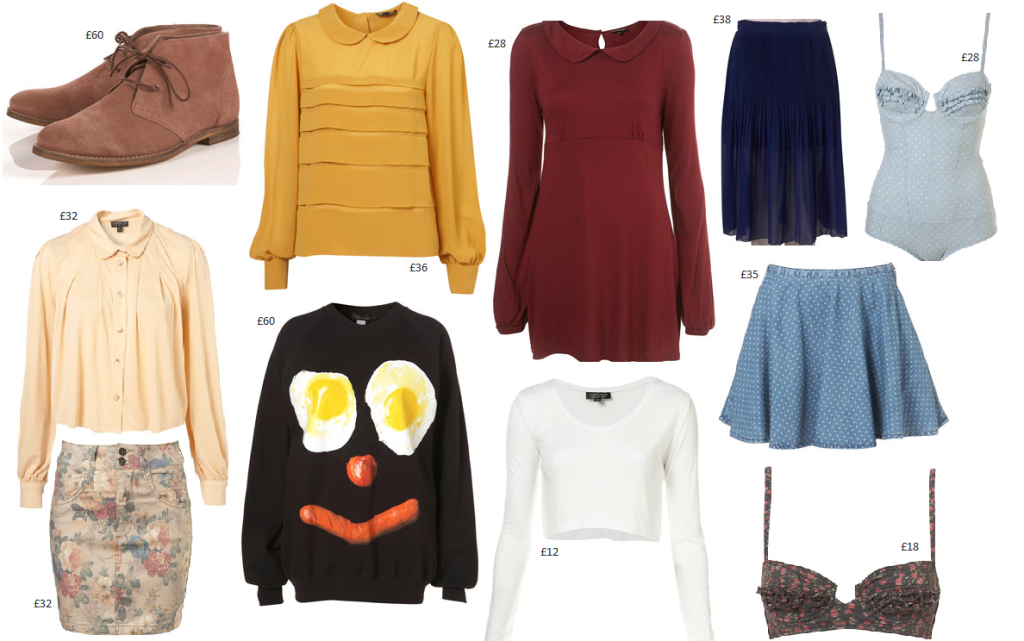 topshop is one of the shops that makes up a big part of my wardrobe and i love all the different types of things you can get for affordable prices all from one shop! :)
i love the shoes because they look so comfortable and pretty much will go with anything! because of my skin tone, i'd just about get away with the yellowy top but i love the style. the dress, i'd find hard finding somewhere to wear it but i loveee plum!
and it looks pretty :) the navy skirt is a mini then has a sort of see through layer, which i looveee!
i don't even know why but i saw it and could imagine wearing it with loads :) the bodysuit would go well underneath the white crop top which i love also. the creamy coloured top that's like the yellow one is nice, and would go nicely with the skirt underneath it. something plain with something patterned-love it :) the sweater just made me laugh :P lastly,
i love the bra but i wouldn't pay £18 for it :P and the skirt i could imagine wearing with loads, it's old skoooool, reminded me of sandy from grease, and it's pretty :)
-------------------------------------------------
2. hollister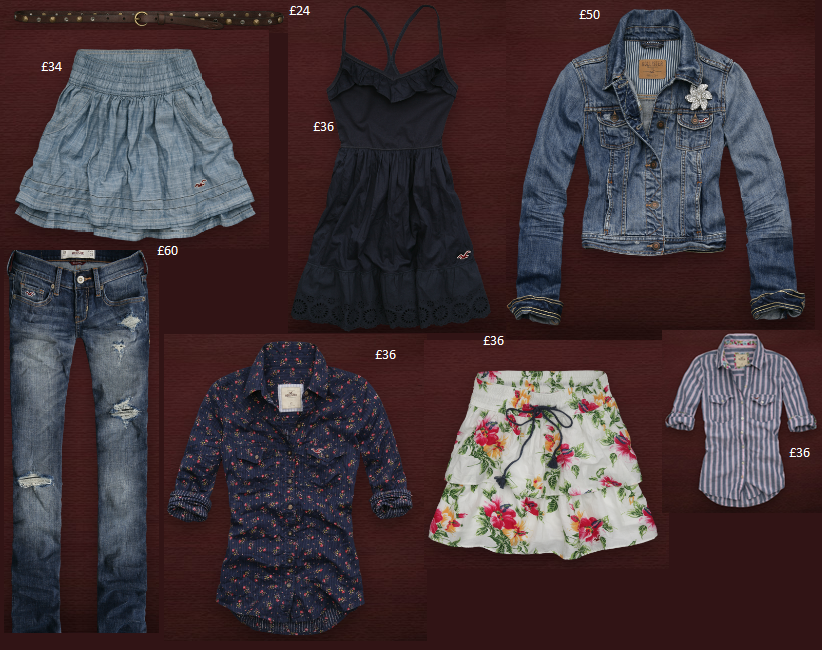 hollister, the nearest one i think is westfield's white city, shepherds bush on the central line. i really love the laid back edge all their clothes have and although a little more expensive, the quality is definitely worth it! i love skinny belts and this one would go with loads, including the lovely white flowery skirt. the blue skirt i love, would go nicely with a tee over it or something but it looks comfortable as well :) i love the dress!
i love the back and i think it's really nice, could be smart and casual too. i'm not usually one for denim jackets but this one i think could go with a lot of different outfits because it's light. the flower gives it a nice soft touch too:) i love the jeans, they're a really good colour as well. the flowery navy shirt is gorgeous. the only thing is is that i think i wear shirts more than i actually do :P but i really like this one :) as well as the stripy one on the end. especially because hollister shirts are always amazingly soft, even after they've been in the tumble drier ;)
--------------------------------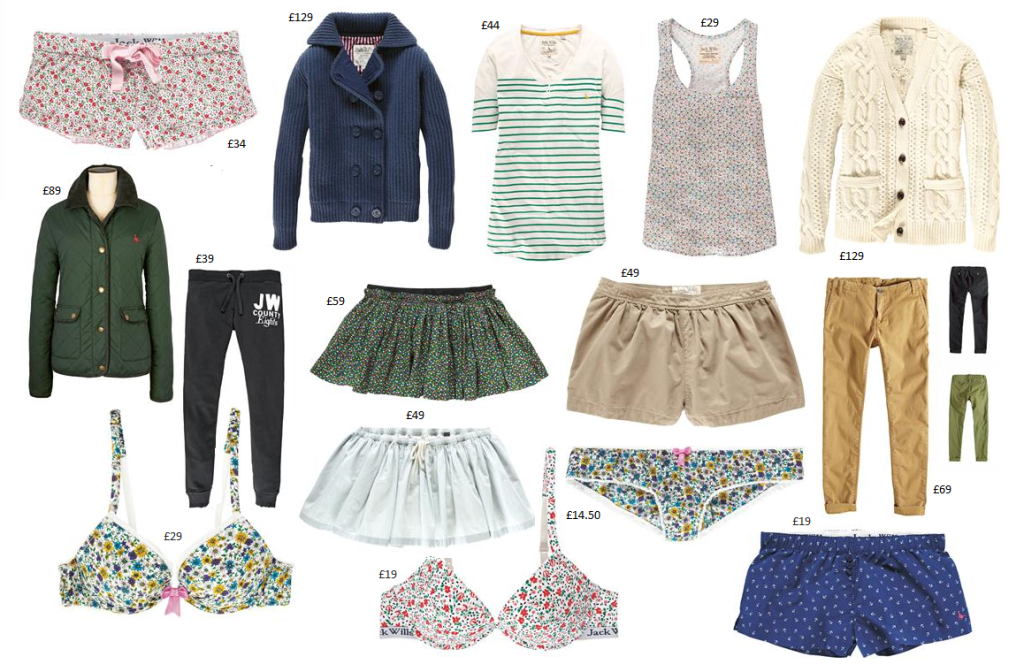 jack wills, although quite expensive, is one of my favourite shops and this season especially has some of the nicest things i've seen! starting with the quilted jacket, i've only seen a few quilted jackets that i like but i saw this one and absolutely loved it! it looks so comfortable, waterproof, durable and also good. as well as that jacket i love the navy duffel type jacket because i saw one in aubin and wills last season that i loved but when i tried it on, it was too oversized to look good. but this one is perfect! next, the green striped top, jack wills henley tops are always so comfortable but also look like tucked in to something high waisted or over jeans. the vest top i just liked :) and the cardigan, i mean look at it. good quality and soft! the only thing is that for £129, i'll have to pass :P
next the black trackies, they're skinny so they're like leggings and because they're quite thick they're comfortable and look great :) the green flowery skirt is simply lovely. as well as the blue one underneath, looks sort of like a pixie skirt but looks so nice! it's not see through as well, and although short it'd make your legs look fab! :) the brown shorts are actually "culottes
"
which are baggy shorts that look like a skirt and i love the colour and silky material :) last of the outfitty stuff are the chino-type-trousers. for reasons obvious to the eye they're really nice and all the colours and cut would compliment all body types :)
top left and bottom right are pajama/home shorts and they look idea for those loungey tv days :) the matching bra and knickers, i love flowers and jack wills underwear fits so comfortably, and the red flowery bra, is just pretty :)
---------------------------------------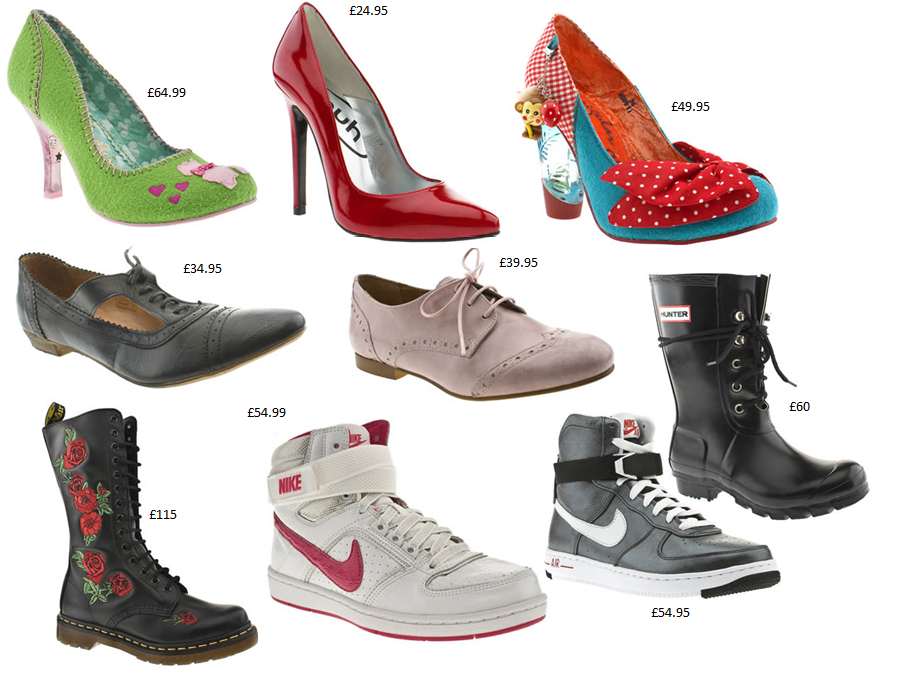 schuh, i love shoes and trainers! but the schuh trainer section was lacking majorly! but i found these 2 pairs which i liked. i'm not sure about the look of the laces on the white pair but with one any of the outfits i've talked about they'd look great. and as for the silvery pair, i love hi tops and these are so cool. i love that they're simple but great. i also love dr martens, the only thing i don't like about them is that they're quite heavy so you have to get used to wearing them around. on the right there are some black hunter wellies.
before, i thought that hunter just made fancy wellies but i actually really like these:) they're waterproof, durable and no more expensive than a regular pair of boots! the 2 pairs of shoes in the middle of course because i love brogues. and you may not recognise but the pink pair are actually my school shoes in another colour :P
at the top, the pair on the right and left are both irregular choice which as you can tell by the name, do irregular shoes. they're really colourful and i love that about them. the middle pair, i love red. and these are just great :P
-------------------------------------------
aubin and wills, is the sister company to jack wills the same way that hollister, gilly hicks and abercrombie and fitch are the same company :)
aubin and wills again is very expensive for everyday wear and the prices shown here are sale prices. but none the less, i've had my eye on the pink shirt/dress for a while not and it looks like it'd be great either loose, or with a nice little waist belt to give it some shape. the skinny jeans, i like the simplicity of them. and the other pair of trousers look so comfortable and again i love the simplicity, simple but sophisticated ;) i love the tee, for no reason i can express but i just like the colour and way that it looks and finally the brogue boots. at £229 in the sale they're obviously a luxury only some can afford but i love them! if i had, that unlimited high street shopping voucher, they'd definitely be on the list!
------------------------------
so, what would you buy if you had an unlimited shopping voucher? i hope you've enjoyed reading today and have a lovely week :) ronan xxx