helloo! happy 5th of january :)
officially in january now it's not the new year! and i unfortunately spent the whole day at school :( to be fair it wasn't the worst day, i had pretty easy lessons :) except finding out i've gotta magically form an art project by the 28th of january. oh and also that i've re-split up from my ict buddies mala and sasha :( oh well. it wont last i'm sure :P i had a delicious chille con carne for dinner (real dinner not "dinner" that school says meaning lunch) and spent my evening neglecting my science books that were sitting on the sofa with me, and watching 2 and a half men, dragons den and something do to with obese kids in america. one who was actually so fat that her head had like ballooned.
actually gross :P she was 17 and 510 pounds. which is about 36.5 stone. if you could possibly imagine that!
anyway, as promised, i'm gonna do a couple reviews about my school uniform :)
i'm quite lucky that my school's pretty lax about uniform. as long as it's bottle green you can pretty much get away with anything. and a blazer and tie are optional :) i've worn a tie 99% of days since year 7 :P i just like it. completes my uniform ;) the items that are from american apparel may seem expensive for uniform but they do last ages at a good quality! i have 4 different compilation of uniform of which i mix and match but usually wear like this...
--------------------------------------------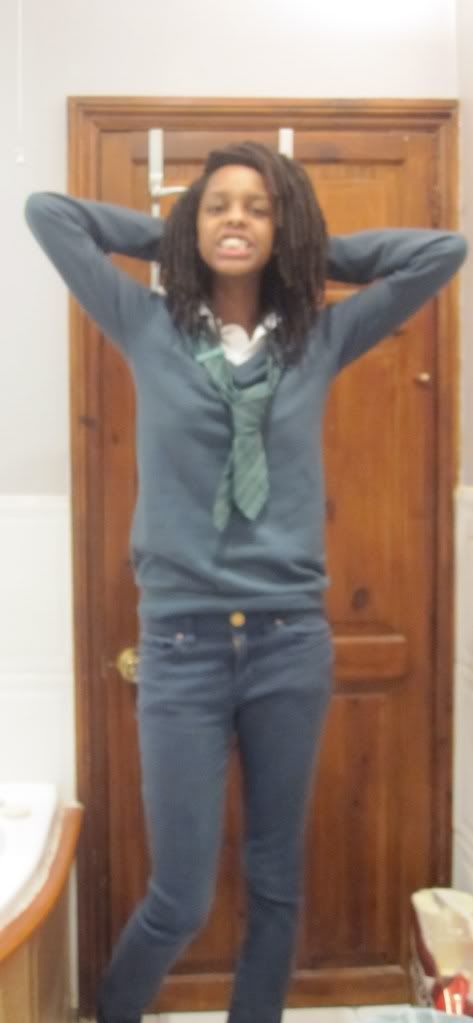 1. standard.
my tie is from the school shop :P and i always wear it lose like you see here. but as my head teacher says, because the tie is optional you can wear it however you like and this is how i do mine :)
the blue badge is just a mentor badge as i'm a peer mentor and that goes on my tie.
my jumper -
http://store.americanapparel.co.uk/rsakwsvw.html?cid=217
-
now £51 but it was only about £30 when i got it i think. but i got it last year for the beginning of year 10 so i'm not suprised the price has gone up. it's a really comfortable and well fitting jumper. there usually aren't all the creases at the bottom of it :P it's lasted really well over the last year and i'm wearing it with a normal school polo shirt.
my jeans- uniqlo - £14.99. they are bottle green jeans because i'm cool like that :P unfortunately i'm not sure if they're in stock any more but if you're interested in getting green jeans i have seen some in bikbok and urban outfitters (both on oxford street.)
as you could probably imagine, jeans are a lot more comfortable than normal school trousers. i asked my head of yeah before i got mine just to make sure i'd be able to wear them so if you're planning on trying it out then ask! because you don't want to waste any money :)
------------------------------------------
2. the uniform a lovely year 8 called me "very trendy" in :
in these pictures i was fixing up and the camera went off :P but i'm no model so they'll do :P
my shirt, was just from bhs kids section and my mum picked it up for me:P it was about £5 - bargain! if you're planning to get one though, the one i'm wearing is a size 13-14, so they're quite big :)
my skirt -
http://store.americanapparel.co.uk/rsa7302.html?cid=151
-
£25
i'm wearing an xs here. it fits good around the waist (it's high waisted) and is really soft and comfortable. great for uniform because you just throw it in the wash with everything else and it doesn't need ironing.
the full length is the picture on the right, but it has a crease about 2 and a half inches down which is what i fold down to make it a bit shorter because for me it's more comfortable like that.
the best thing about it is that you can alter the length to whatever you find comfortable :)
--------------------------------------
3. the too hot for trousers but it's still school.
my cardigan -
http://store.americanapparel.co.uk/rsad402w.html?cid=217
-
£36
this cardigan i've also had since the beginning of year 10. it's got really long arms which is excellent and although not as warm as the v neck it's still very warm and comfortable.
i'm wearing an xs again because i like the arms to be quite slim :) i love the buttons on this cardigan, and the cardi also can just be thrown in the wash.
oh, on american apparel. my uniform colour is "forest". what i did is took my old school jumper in to the shop with me and just compared to make sure it was right:)
skirt -
http://store.americanapparel.co.uk/rsa5306.html?cid=151
-
was £27 but now only £13.50 so it's a great bargain. here it's creased but the same material as the v neck. really comfy great skirt :) i would definitely recommend it because it's really comfortable. not too short and the high waist i think would be quite flattering on majority of people.
------------------------------------------
4. because i think i'm cool :P
lasty my school dress.
http://store.americanapparel.co.uk/rsa6321.html?cid=29 £25 - xs. i really love this dress. i don't wear it that often because it's not particularly warm but i really like it :) it fits well, is quite short but no shorter than any of the other skirts i've talked about and i really like it :)
here i've paired it with the bhs shirt because i didn't think i'd be allowed to wear it on it's own as my uniform is green and white.
but it's a really comfortable dress and fits well. the arms are a little bit tight so maybe if i got it again i'd get a small. also because i have quite long arms they come to just my wrists but i love it. it's nice and i'd usually
wear my tie with it as well :P
american apparel do everything in loads of colours as well so everything i have i'd also buy in another colour for casual wear but the fact that it's uniform sorta kills it for me:P
-----------------------
finally, my school shoes which i love and adore!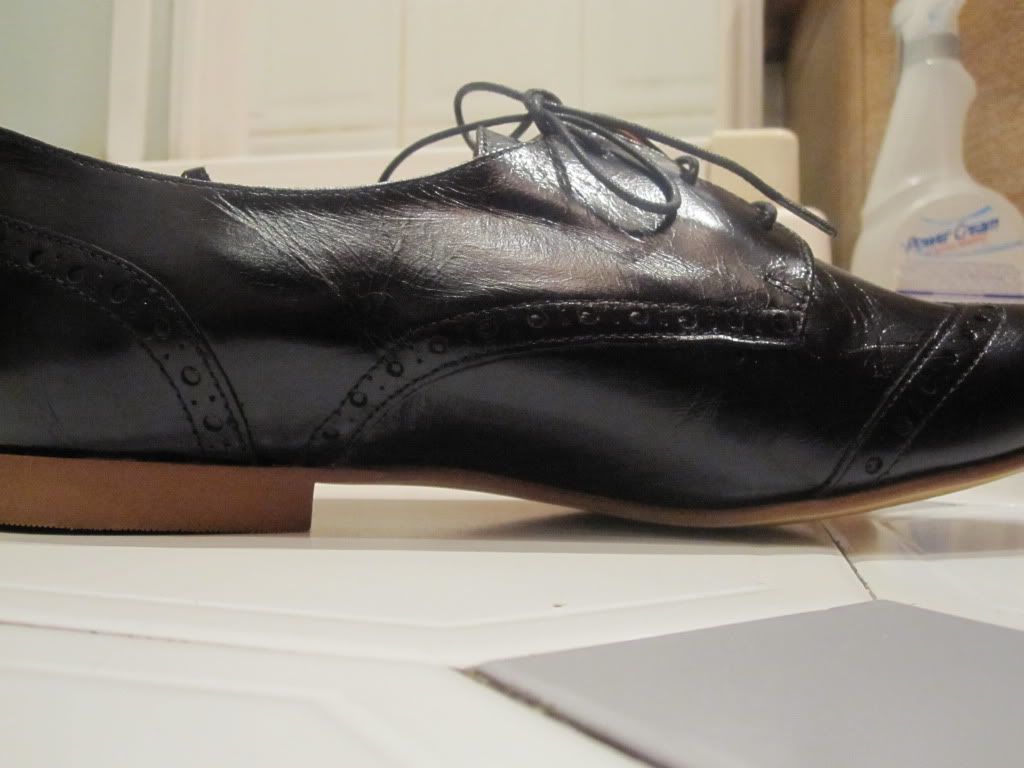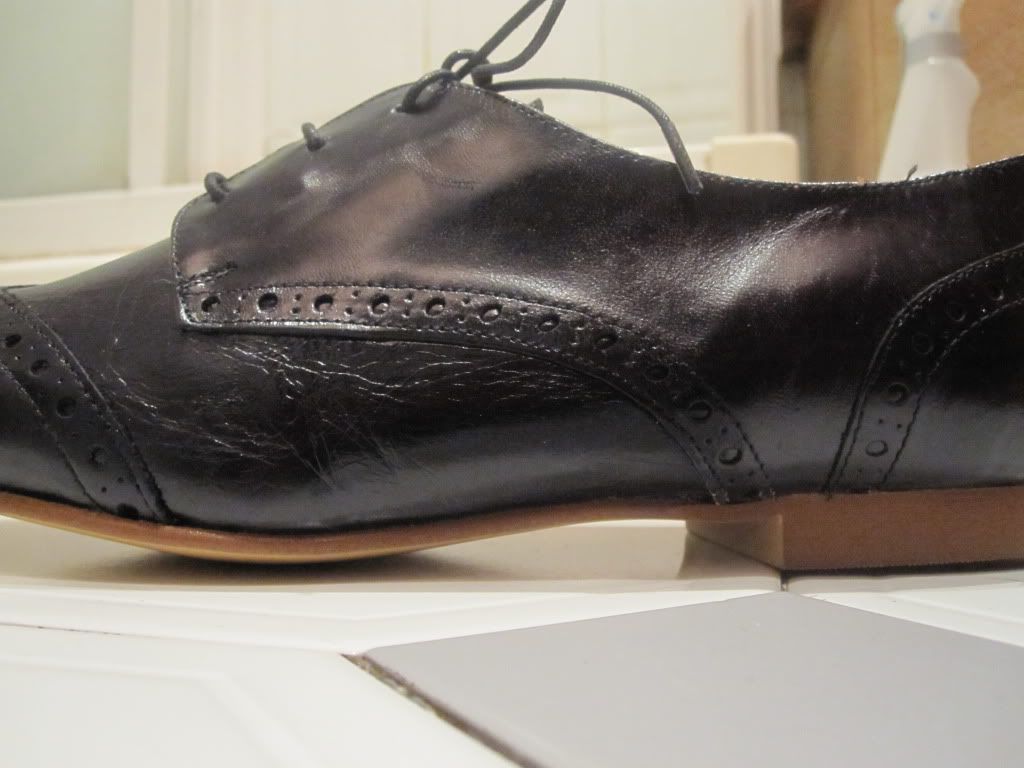 if you go to my school then you'll probably wonder how the brogues in the photos look so fresh and clean?
the answer to that is that these aren't my exact school shoes :P they're a new version of them. you see when i first got the "mel lace brogue" from schuh at the beginning of year 10. i fell in love with them and knew that they were the best school shoes ever! so i bought another pair in case they got mashed up, and after that pair i bought another.. and another. and the ones in the picture are my fourth or fifth pair. and i currently wear the pair before that that's yes to be ruined beyond belief.
they are so comfortable! take a few wears to wear in but that's simply because of the leather. i must say that they do have absolutely no grip whatsoever, but they're lightweight. look good in my eyes and you can wear them through all weathers!
best shoes ever i'd say :)
-------------------------------
anyway, that's my whole uniform done and now you know alll my uniorm secrets :P i hope you've enjoyed reading :) ronan xxx