good evening :) happy new year once again and i hope your day has been a great start to the new year! i in fact had a lovely day! i woke up to my alarm at about 10 30, looked at my phone.. seemed to be transported to a world of jonathan creek and melted ice lollies, then when i looked at my phone again it was 2 20. must have fallen asleep :P
so i went downstairs and had some museli and oj while playing shrek 4 with siobhan. shrek 4 on xbox 360 is actually really good! although we had to ask the three blind mice for help too much for it to be a kids game! time seemed to fly and when 5 30 came, dad had made curry :D (woowoo) and then we played the new version of mouse trap of which the traps actually work! and the cheese are now cheese wedges, although we had to create some new rules to spice it up a bit. it's good. definitely check it out :P until 8 30 came and eastenders new years' day special came on. i don't know how many of you watch eastenders but why can't they let ronnie be happy? why? last year danielle and this year james? :( but i felt sorry for kat and alfie more.. when kat stormed into the vic :( anyway. enough of eastenders :P
-----------------------------------------------------------
today i thought i'd do a bit of mens' fashion since i haven't done any. and because i don't know THAT much about mens fahsion i decided to go to the sites that i know are quite popular:) so i went on the "get the look" section, and i'm just gonna give my opinion on what i think so i hope you enjoy it :)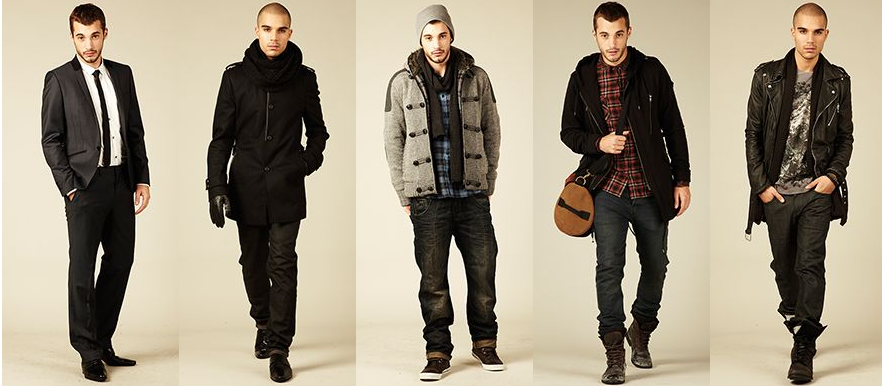 http://www.riverisland.com/Online/ is a popular and affordable shop. there is a very diverse range of clothes that cater for a very wide range of styles as you can see. these are all from the new winter collection but are on sale as i'm writing this so have a look.
1. the suit is okay. i wouldn't say it was the nicest suit i've ever seen but it's quite smart. i'm not sure if the model makes it look a bit slimy :P i don't have much to say about this one but i quite like the blazer:)
2. i like the oversized scarf snood here, it looks really warm and it's smart casual. i don't like the fitted jacket because it's pulled in at the waist which makes it look quite feminine. the gloves are fine but i think the jeans should have a been a little slimmer. just because the coat ends baggy, so the jeans should be a little more fitted.
3. this is obviously a slightly different style to the previous style and more baggy. i personally don't really like it but i think the shirt and jacket are okay together. i think the scarf.. should only be like that if the jacket is closed and the jeans match the outfit. not really keen on the egg hat. sort of looks like a tea cosy :P
4. i actually quite like the fourth outfit. yeah i can't fault it i think it all goes nice together :)
5. i hate the jacket. and i think that the boots look silly with the jeans tucked in. maybe it's "metro-sexual" or whatever that is :P so i think he should lose the jacket, and untuck the jeans and it'd be fine.
----------------------------------------------------
2. topman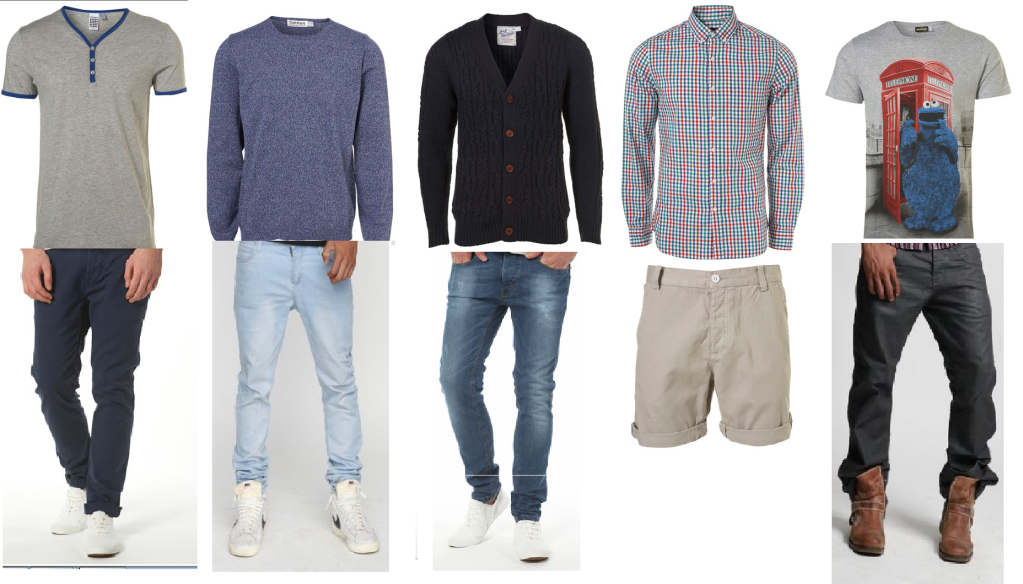 http://www.topman.com/webapp/wcs/stores/servlet/TopCategoriesDisplay?storeId=12555&catalogId=33056 is the twin company to topshop the shop that majority of the guys i know get most their clothes from. cheap and cheerful as my bestest friend put it :P and the stuff is really good quality and also caters for majority of different people's styles. as you can see though, i put this montage of outfits together myself (with some help from a very stylish male influence) :P because topman don't have a get the look section. but i think it shows the diversity of their range of clothes that would suit not just only "indie" people. i don't have any comments because i love all these looks (as i made them) but with topman you can't really go that wrong and the sale is amazing.
-------------------------------------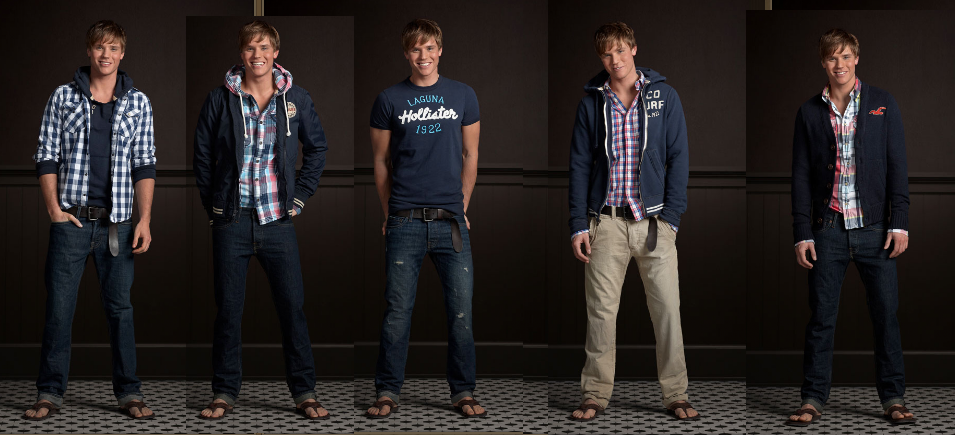 http://www.hollisterco.com/webapp/wcs/stores/servlet/HomePage?langId=-1&storeId=13007&catalogId=10201 is a sibling shop to amercrombie & fitch and gilly hicks. but i think it's the nicest out of the three. the prices are about the same as topshop (a little mroe expensive than topman) but still affordable. what separates hollister from the others is that it's cheaper than abercrombie & fitch and just as nice. and gilly hicks is actually hideous.
1. i quite like the outfit, i think the top half is really nice. i'm not reeeaaallly sure about the belt but i think it's okay. the jeans are ok too :) but i don't like the flip flops. but i can understand they it's meant to be california gear and a lot of people wear flip flops so it's hot.
2. hollister hoodies are really nice and comfortable, and the also look good. i like this outfit, the jeans are a little flared for my liking and i think if they were a bit ripped or a bit lighter they'd go better but they're okay.
3. i really like this outfit. simple and spectacular ;)
4. the beige trousers... i don't think they go well with this outfit. i think they should be paired with a tee or just a simple shirt because they look like cotton trousers you'd wear on the beach, but the top half doesn't match that style. i'm not too keen on the shirt and the hoodie combo but they'd look nice separately.
5. i really like the navy cardigan. it looks really soft and comfortable. and the shirt goes ok with it. but i think the jeans from the first outfit would suit them better. i'd say it's too much darkness in the outfit and makes it look a bit rigid and like you couldn't kick back in it.
---------------------------------------
4. jack wills
http://jackwills.com/ is in partnership with aubin&wills and is a little more expensive than the other sites i've talked about today. but it's worth it for the quality of the authentic british clothes that they offer. it also doesn't cater to all styles, but if you like one thing. you're likely to like most of it.
1. i don't like the ridiculously skinny jeans on here haha. i like slim fitted jeans on guys but that's a bit extreme. they're like mens leggings. and there is only one person i can think of that can pull them off but otherwise, it just leaves room for people with big butts to get adventurous. i like the stripy tee, and i also like the shirt. so i think they work well -maybe not amazingly together- but they're nice. the jacket's okay.
2. i really like the trousers, they're a good fit and look nice. i don't really understand the red cuffs but i think it's ok :) the top looks comfortable and everyday so i like it.
3. i really like the christmassy type jumper i think it's quite cute. the gilet is okay here, it looks ok :) it suits the outfit i think. i don't really like the jeans but maybe if they weren't rolled up they'd look nicer.
4. here i don't like the gilet, a normal jacket or unzipped hoodie would go better. what i can see of the jumper underneath is quite nice :) simple but nice. the jeans are quite nice, i think the way the model is standing makes them look a bit odd but they're nice. i like the bag. it'd be a good gym bag or everyday bag or something :)
5. okay i hate the scarf, it looks really feminine just thrown over the shoulder and the colour doesn't add colour to the outfit it just looks a shambles. i like the plain jumper and bag, but the white underlayer shouldn't be tucking out and i'm not so keen on the jeans, they should be a little more fitted or a little baggier. the inbetweenish look of them isn't good.
-------------------------------
anyway, that's my verdict on all of those and i hope you've enjoyed hearing it :) ronan xxx