heloo! hope you've all had a lovely week!
mine's been school.. looking forward to the weekend and wondering how i'm going to wing another bassoon lesson :P the old "i've had sooooo much work this week" excuse worked. and some being so crap my teacher just had to laugh! this week's eastender's has been a huge disappointment! and what else has happened... my art teacher and i actually agreed on something!
anyway, i haven't posted since monday! but today's is about a really great little website called "pretaportobello.com"
http://www.pretaportobello.com/
.
like any other clothing website it has men's and women's clothes, a bit of vintage stuff, etc. but the really cool thing about this website is that it has a "let's trade" section!
the let's trade section is basically online haggling.
on the right are the rules and the left are some items from the dresses section.
what you do, is you get sent to the let's trade page which are completely legitimate items that are simply one off's that you can put in a price of how much you want to are or willing to pay for it.
here i'll show you a quick demo of how it works :)
1. pick an item and type in how much you're willing to pay for it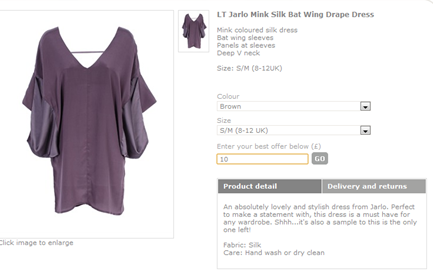 2.
if your amount isn't as much as what the unknown asking price is. you'll see this message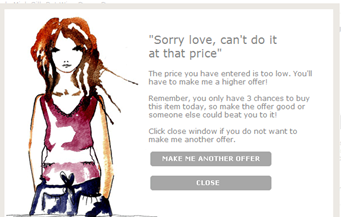 3. then you have 2 more chances to make an offer that this interactive stall owner can accept
4. if your offer is accepted, you will see this message. the only thing is that if your offer is accepted on your first or second go. you can't try again and put the price down. although my sister found a loophole, you can go on the website on another server eg. google chrome, windows explorer or firefox, and put in the cheaper offer ;)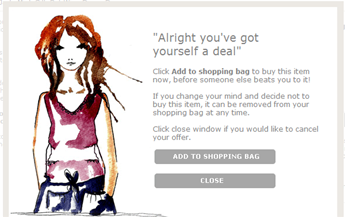 5. you add the item to your basket and continue shopping!
i think this is a really good innovative idea and it is currently the only website which offers this service! majority of the products can be sold at a cheaper price because they're haggled down.
as well as this, pretaportobello is actually a normal online shop which offers some really nice, affordable clothes and accessories! here are some things that i've found that i really like :)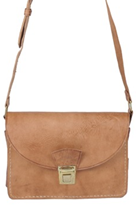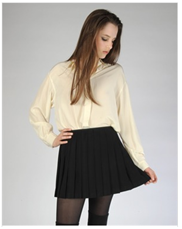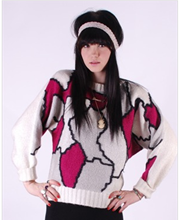 also on pretaportobello, you can choose to buy things at price ranges so there are loads of really cool different things you can buy for really good prices :) so i'd definitely recommend that you check it out! :) if not to buy, at least to try and have a giggle seeing how much you can haggle, it's fun.. trust me:P
hope you've enjoyed reading today's post! :) ronan xxx