i hope you've had a lovely weekend, i've been really lazy with blogging (sorry :P) because of exams and i would say revision but that would be a lie. last week i had 6 exams, english x2, french x2, re and music and they all went pretty well so fingers crossed for results day! on sunday i had an athletics competion and i did really well, won long jump, and triple and we 1st in the 300 relay, oh and i came third in 300 which i'm pleased with because i never do it :P i found some absolutely terrible photos of me on the club website though, i'll show you a few later:)
----------------------------------------
but first today, i went to see my friend rhiannon because it's her 16th today! happy birthday rhiannon! and i thought i'd show you what i wore :) it was quite warm but very windy! because of the light, where there's black blocked colour it blurs a little unfortunately.
bag - topshop, this bag was a present from my mum 2 christmases ago. it's my first proper "handbag".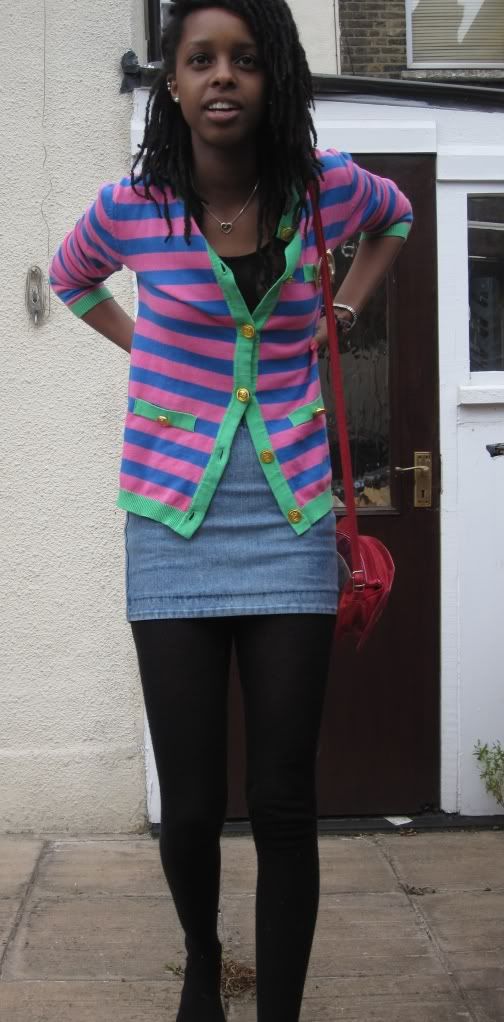 cardigan - clothes show 2009: upper fifth.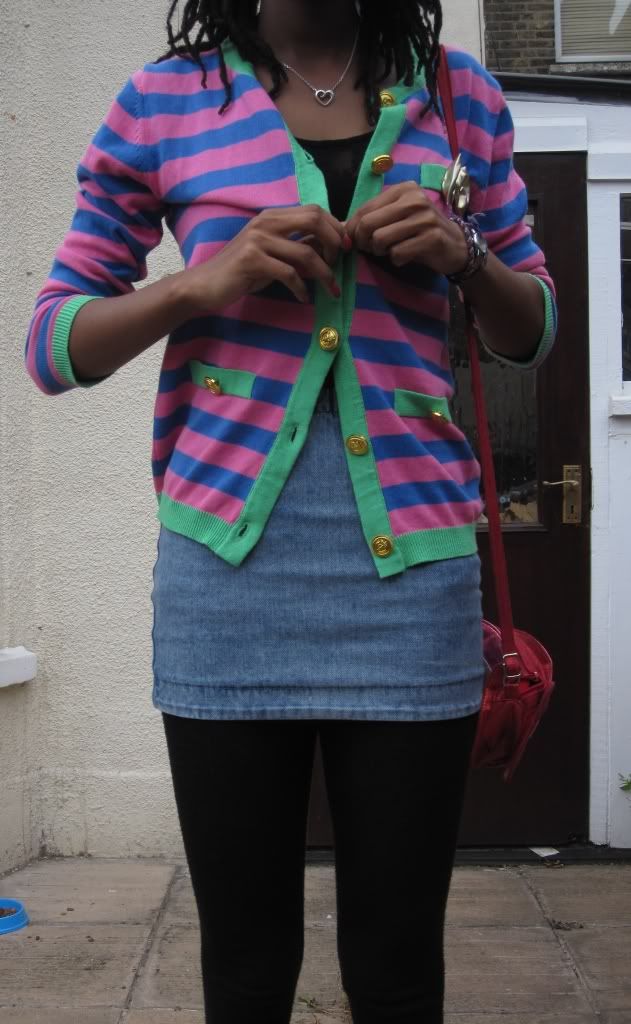 upper fifth is available in topshop now and their collections are always colourful and a little vintage looking. i ran out of money at the clothes show so amber bought it for me and i was so excited about it! before i got this i never would have put green and pink together.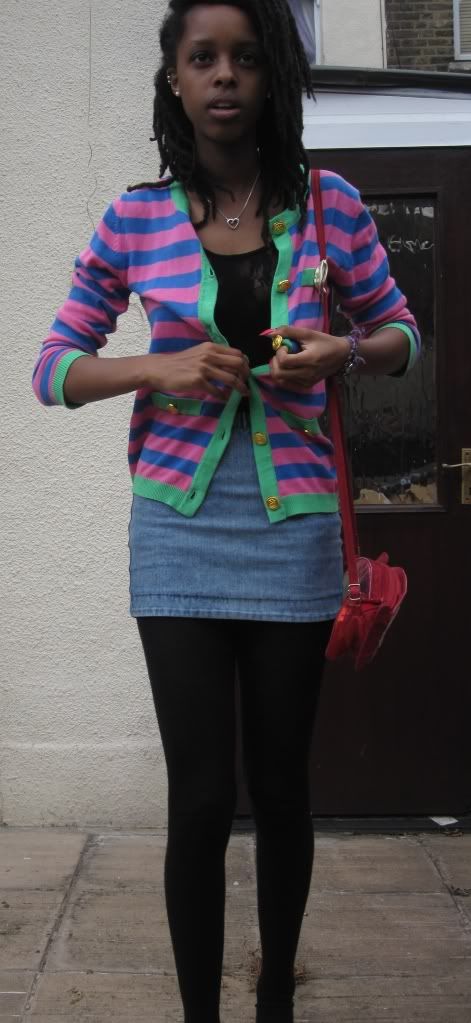 high waisted denim stretch skirt- urban outfitters.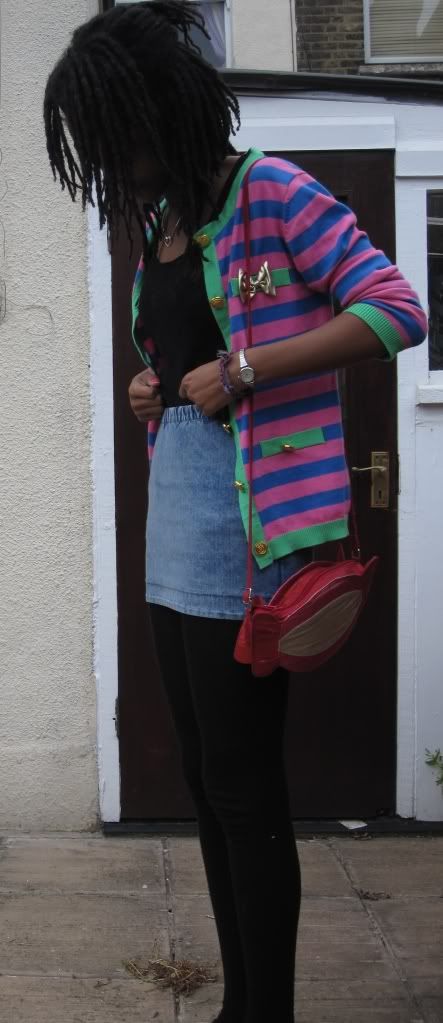 i got it in the sale for £15 down from £35 a little while ago! bargain! it's so differen't to anything i've seen before and i love the acid wash effect on it.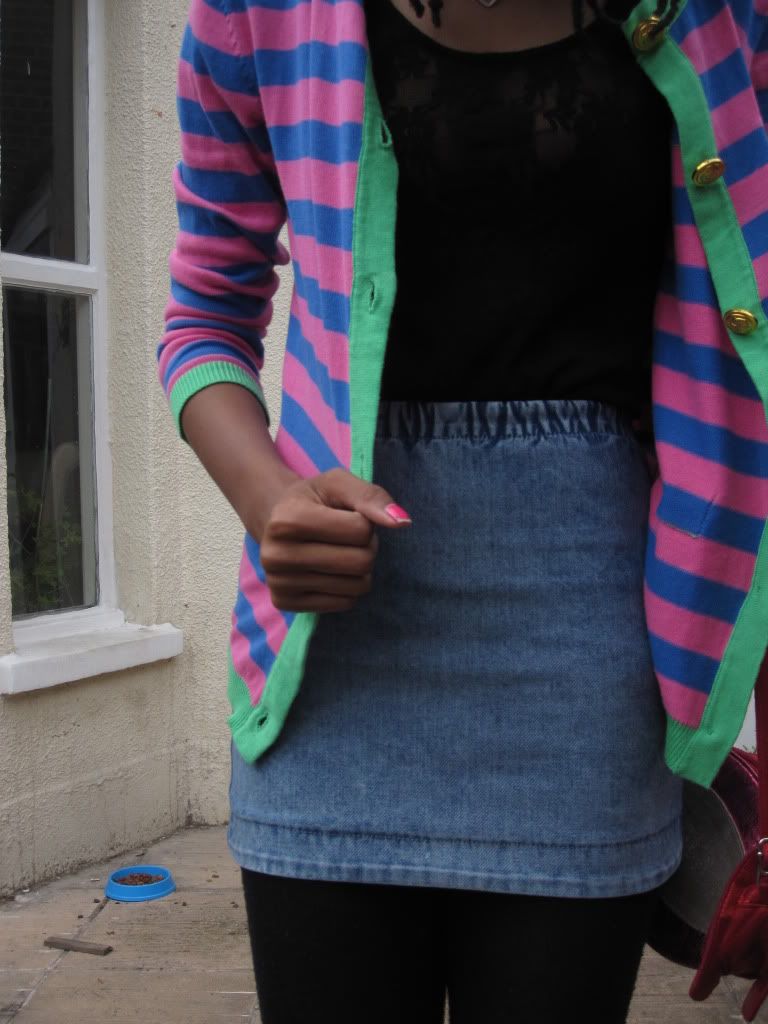 black lace flower top- h&m
this lace top has a little flower pattern on it which you can just see, i got it from h&m a while ago but i haven't worn it before because i never know how to pull it off without looking really cleavage. but i think the key is a dark bra, and pairing it with something else that's quite bold which takes away from the boobyness of it.
i like this outfit because it's quite simple, comfortable and colourful. it's definitely something casual but could pass for dressy with a blazer or jacket instead of a cardigan :)
------------------------------------------
i had a little assistance with my photos today, my gorgeous friend philippine was helping out today and we got a little carried away taking jumpy photos :P
these are the best two of about forty haha :P :D
-------------------------------
and lastly, me doing triple jump, long jump and 300m. i don't have to point out the hideous one but i'm sure it'll give you a giggle :P have a lovely week! ronan xxx