hey everyone :) how are you?
hope you're all good anyway! so it's the end of the week, found out that i got a merit in my bassoon exam, woohoo! so pleased because i thought i'd completely flop it and the examiner and i had a right giggle at my scales 8-) :P anyway so today was an okay day at school, ms pratt was being a pratt as usual but that's nothing new! but at least i could come home, and have a good look through clothes that i want to cheer me up :P
i thought for today's blog, i'd talk about someone who has a great fresh new style, and is currently designing a clothing line for lipsy clothing (
http://www.lipsy.co.uk/pixielott/designday
)
... *drum roll* it's victoria louise lott, or more commonly known as pixie lott! you've probably noticed the 21 year old singer, dancer, actress and fashion designer on my blog before and she has really individual style. i've put together a few of my picture boards to show off her style :)
1. i really like her outfit. to be completely honest i wouldn't actually wear this dress because i think out of this context, it wouldn't actually be that nice like for everyday. but with those shoes, that clutch and the gorgeous pixie wearing it, it looks great. this is one of pixie's designs.
2. this one is also one of pixie lott's designs for lipsy clothing and i love it! i would totally wear this everyday or on a night out etc. it's a really gorgeous dress and those shoes are growing on me :p
3. pixie lott does love her animal print, and i'm not sure about the skirt.. it will either be really nasty or really nice but we can't see the pattern in this picture- this is another of her designs.
4. gorgeous dress! i love the black detailing but also the looseness of it so it would be suitable for any occasion.
5&6. this is the same dress, and i'm not sure about the straps coming from the middle... hmm. no i don't like it, i do love her brown waistcoat though and i'm loving the trilby hat!
---------------------------------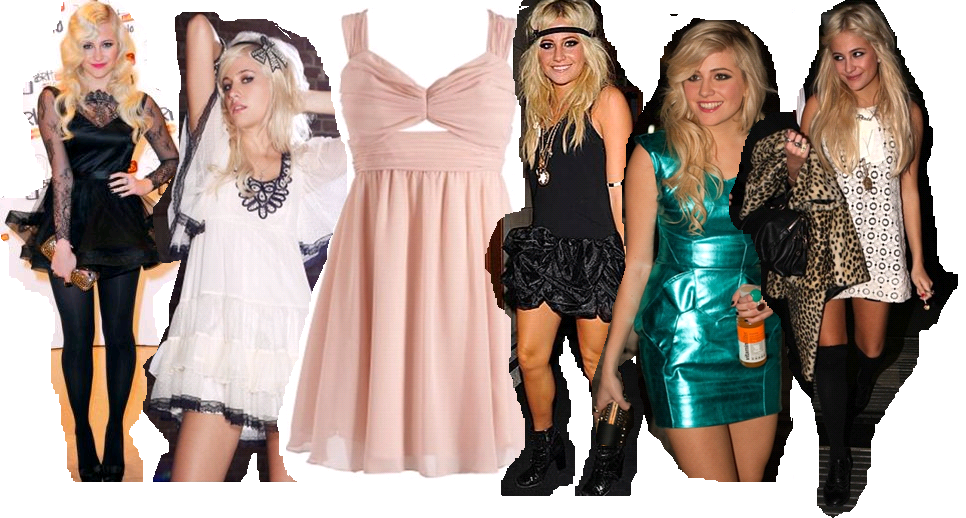 1. this is the dress that pixie lott wore to the brit awards 201, i love it on her! i think it would be nicer without the lace on the front but i love it on the arms. i also really love the poofy-ness of it, it's such a gorgeous dress and pixie looks amazing in it!
2. this is one of pixie's designs, i can see it being in the "boho" section of topshop and being worn with brown booties and something tassley :P i wouldn't wear it because it's not really my style, but i like the detail around the neck!
3. another of pixie's designs, i really love it :D i'd like to see it on though because of the cut out at the front which could go terribly wrong... but it could be quite nice also.. possibly :P
4. hmm... i started writing about why i disliked this dress.. but as i looked at it more and more it grew on me! i'm starting to like it, it does make pixie look a bit black-swannish but i sort of like the tutu look. could imagine wearing it to like a roller disco or something :P
5. i don't know how pixie makes this pva metallic dress work but i really like it on her. it emphasizes her curves and if she wore it with something a little less bold to level it out i really like it!
6. ok so i've never been a "faux fur" fan, and i'm not sure even pixie lott can change my mind on that one. i do love her dress though, it's similar to something i saw from ben sherman. pixie looks fab as per usual :P
------------------------------------------
something i really love about pixie lott is how effortless, comfortable and natural she always looks! it's definitely something i'll make sure i try and do :)
1. i absolutely love pixie's dress! it's again one of her designs and it would be perfect for summer! i love the over the knee tights thing she has going on as well, it's not bare legs but it's not tights which would be nice for a breezy but warm day :)
2. i have shorts like these! well.. light tan coloured haha. i love how pixie has paired it with a simple black top and skinny belt but it still looks so sophisticated!
3. i love this mainly for the tiger paint on her, the corset works perfectly and you'll see this outfit again a little further down...
4. i love love love this dress! it's big bold colourful and looks so amazing on pixie! again i don't usually like fishnets but they really work here. the dress is so amazing though and i'd absolutely love to have it in my wardrobe!
5. i like this simple outfit, i like the shorts but i don't really like the top. just slightly off i think :)
6. i really like the waistcoat, and again the over the knee socks :) i just think she looks really nice in this!
------------------------------------
so dangling on the end of pixie lott's gorgeous arms, is her equally gorgeous boyfriend- model oliver cheshire. oliver and pixie make such a gorgeous couple and he also has pretty good style :) here are just a few photos of them where i think they both look fab!
just a few items i really love- 1. pixie's skirt is stunning and oliver's bow tie is great! love oliver's jeans in 3. and also love their matching little stripes. i so want to go out painted like that and sometime i will :D some hot day!
so i hope you've enjoyed reading today's post, and can take a little something from pixie lott! :D i'll just leave you with this picture of pixie that i love, and i love her outfit in it too! have a great evening, ronan xxx