happy bank holiday :) hope you're having a really nice day! i really should be revising for my maths and science exams next week :/ but today i thought i'd kick back, and i will revise later and tomorrow :)
there's a few quick things i wanted to say today, i've passed the 2000 views mark this month and i just wanted to say thank you so so much for everyone who reads my blog, enjoys it and supports me! to all my old and new followers, friends and family who read because you keep me blogging and enjoying what i do so thank you all and keep reading :)
also, tomorrow it has been a year since my granddad gabriel merryfield fell asleep, and today i visited his grave and laid some flowers which was really lovely :) so rest in peace grandaddy, and i promise i'll come back soon with some whisky :P
-----------------------------------------------
today i did a little bit of online shopping and i'm so excited to receive my purchases and i'll post everything i bought when they arrive! :D today i'm just going to show you an outfit i wore a few days ago to pop to the shops :) enjoy!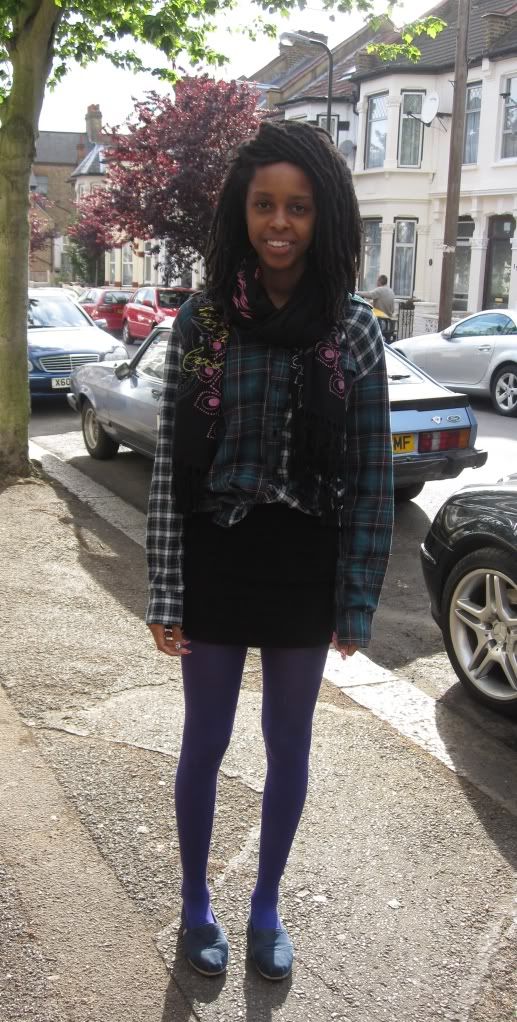 just something casual :) but i hadn't worn these tights in ages!
skirt- american apparel. i bought this skirt a few years ago and it's a really great soft cotton/polyester material. it's really comfortable and i just like the way it looks :)
shirt- uniqlo. i love this uniqlo shirt, initially bought for a halloween party but i've been wearing it ever since as an over jacket but here i'm wearing it as a top :) i tied it so that you could see my skirt.
shoes- toms. you know i love my toms. on my last post someone lovely asked me where i got mine and i got mine from schuh. but you can also get them from office or i'd also recommend the official toms store -
http://www.tomsshoes.ca/
.
i also love that the back of this shirt is different to the front. gives it a bit of a vintage look and makes it a bit different :)
i love this scarf - river island. siobhan bought it for me for me one christams, i love it because it's black so can be worn with pretty much anything. but it's also got a little pattern on it that adds a splash of colour.
i hope you like this outfit as much as i do :) have a lovely rest of monday. there's so much great tv on tonight! eastenders, britain's got talent, made in chelsea, desperate housewives catch up! :D haha, have a lovely evening and thanks for reading :) ronan xxx