hope you're all having a lovely beginning to june, here in london the weather's been beautiful! i went up to brick lane with keisha, before heading to westfields white city for a free concert with eliza doolittle and dizzee rascal! :P
today on brick lane, i got talking to the owner of "vintage store" which is actually the best vintage store i have ever been into for really affordable prices, and he said he'd love me to be at the press opening of the new store which will be opening next month so i'm really excited about that! :D check the vintage store out online, or on facebook, twitter or tumblr :)
----------------------------------
so as you've probably guessed, today's post is some street style i saw whilst on brick lane today! something i really love about each of the people i photographed today is that their styles and outfits express their personalities which i love.
everyone i spoke to was so friendly and there are some really gorgeous and quirky people up brick lane so i hope you enjoy the photos :)
these 3 girls were all really stylish :) they all put their outfits together really well! i especially love:
1. the 7/8th skinnies with loafers. and also the jean jacket looks great!
2. i love the
dark denim shorts with the light top and dark cardigan. the colour contrasts are brill!
3. this is just a really pretty dress and i love how she's used the skinny belt to pull it in and give it shape :)
-------------------------------------------------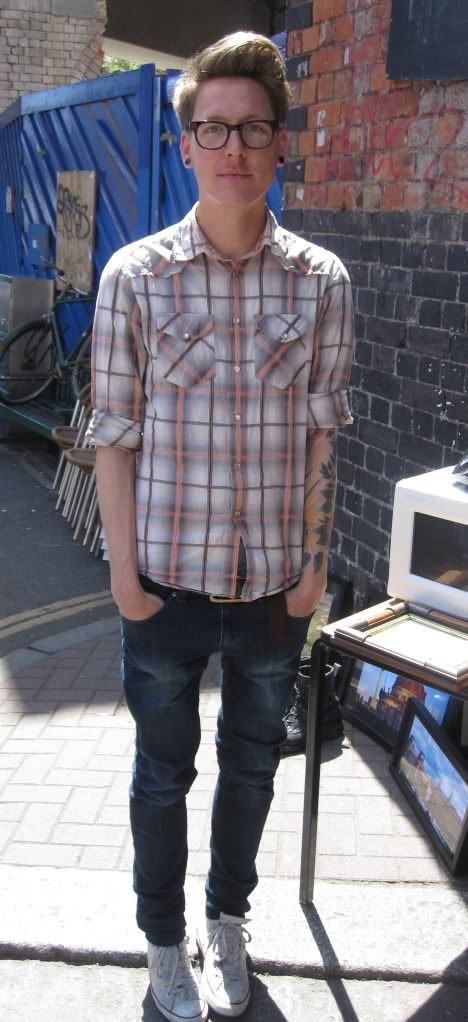 this outfit is technically quite simple with the shirt and slim fitting jeans but i just really liked the particular colours he chose with the light trainers and shirt. also, he effortlessly pulls off the geek glasses look and sleeve tattoos and i think he looks really cool :)
------------------------------------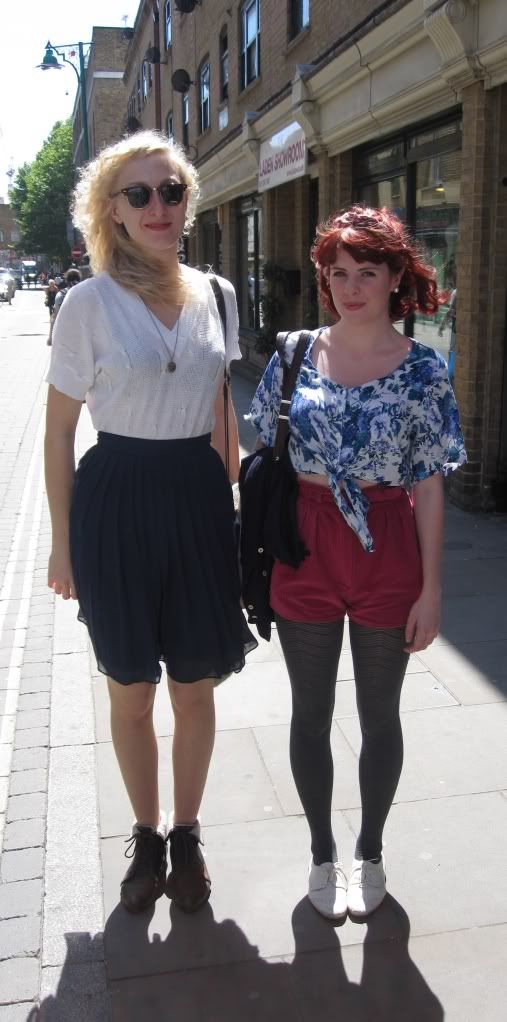 these two ladies had quite individual styles and they look really good!
1. i love this chic and sophisticated style. pleated skirts are all in fashion this season but i like the way she's made the style her own with the white shirt, it looks like she's right out of paris :)
2. i love the colours in this outfit! the red shorts are amazing and i love how she's paired them with the blue crop top, and light patterned tights so that each element of the outfit is balanced!
----------------------------------------------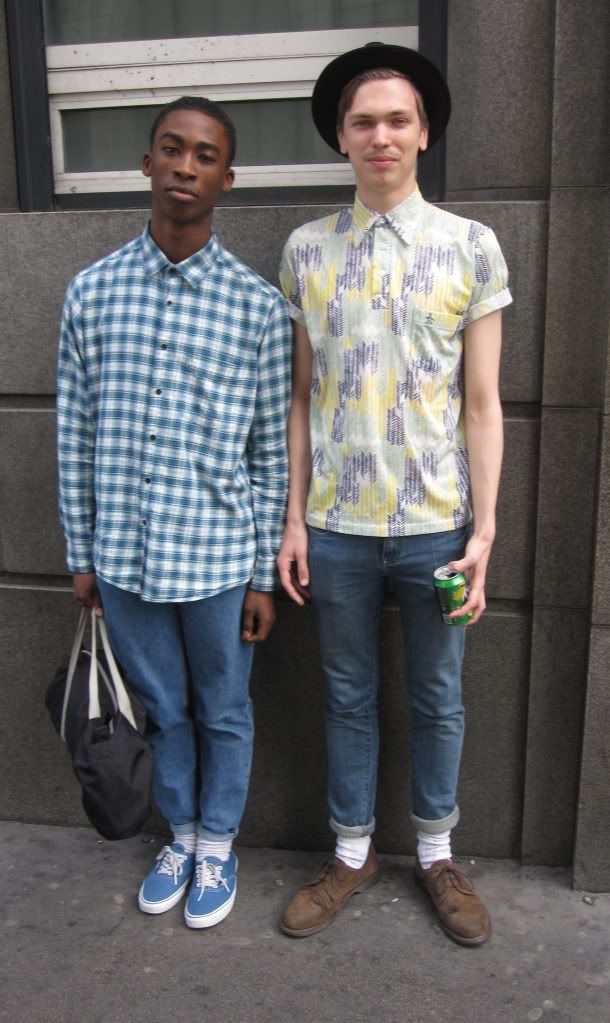 you can see why i noticed these two guys right away!
1. this guy is wearing a simple check shirt but i love that he's paired them with the carrot style jeans, white socks and blue vans which match the jeans. he just looks really stylish! also, i love the american apparel bag he's got.
2. i love the colourful polo with the drainpipe's and matching white socks. i love this because it brings your attention to these great shoes haha which i really like for some reason! he also pulls of the trilby really well!:)
----------------------------------------------------
i love this outfit so much! it actually says "maybe not" at the back of her tee which is really cool! i usually say you should wear something baggy with something tight but this outfit is definitely an exception! i love the loose asymmetrical skirt which gives a great light summery feel, then it's brought back to sophisticated with the boots.
------------------------------------------
this outfit caught my eye straight away because of this really colourful jumper! it brightens up any outfit and i like the grey jeans he's wearing with it because they keep your attention on the jumper :) great colour balance!
----------------------------------------
this pair of girls are wearing really lovely colourful outfits which i loved! :D
1. i love the collared top for one, and she was wearing these amazing acid wash shorts which unfortnately you can't see :( but the pink espadrilles go great with the coral top!
2. i love her trousers and i love the way they balance out the colour in her vest top and espadrilles. i also really really like the thick leather belt she has and the classic watch! they suit her perfectly :)
----------------------------------------------------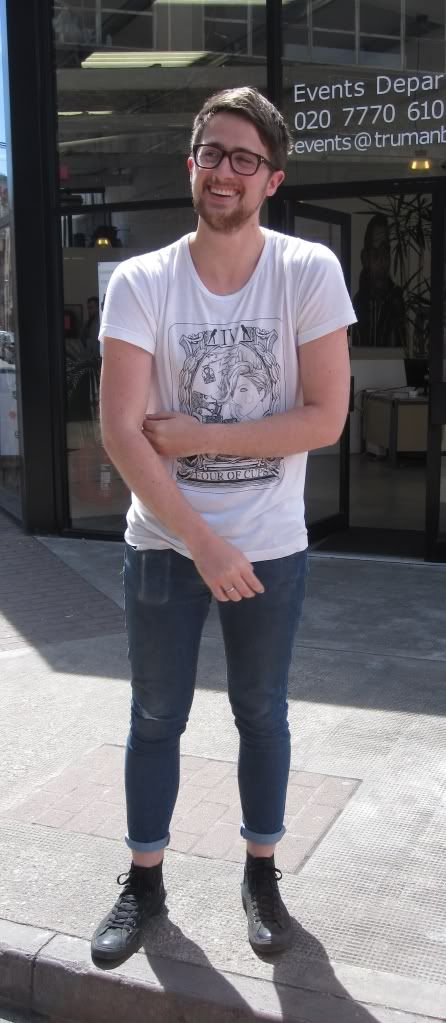 this was the last person we saw for today :) he's laughing because his friend was teasing him about how often he gets asked to be photographed for various magazines and blogs.
well i can see why, his style is really cool. i love the baggy white tee paired with the super skinny drainpipe 7/8th jeans! i see people wearing this sort of thing quite often but i think they really suited him like the converses :)
-----------------------------------------------
i hope you enjoyed that! now, here's what i was wearing today :)
red polo- hollister. this is a really comfortable everyday top and i really like the colour of it!
rucksack style bag- river island. a few weeks ago i was looking for a good bag as you may remember. and my mum was digging through her bag collection when she found this and as she'd never used it she decided to give me it! it's a perfectly sized bag and i really like it :D
plait belt and denim polka dot circle skirt-topshop. i was a bit annoyed this morning when i wore this skirt for the first time and the clasp popped off! but i wanted to wear it anyway and as it still had a zip, i zipped it up and used a safety pin instead and you can't really notice it! :)
my belt i just love because it's amazing for all occasions!
pique bloomers- american apparel. i decided to wear these because my skirt is really lightweight and if it blew up i would have been highly embarrassed at the general public of london seeing my undies! so i came up with wearing my bloomer shorts which were perfect for the ob and really comfortable! :D
i hope you like this outfit as much as i do, and enjoyed reading today :) hope you have a lovely rest of week! ronan xxx