how are you? :) if you're in london probably happy because we're having such amazing weather at the moment! who said global warming didn't have any perks? ;) just a short post for me today because i have some revision cramming to do :P just wanted to tell you (mum, dad) that i'm still determined to get my miniature puppy and when i do, i'm going to call him/her rocky or lily :D
-----------------------------------------
today i wanted to talk to you about an up and coming designer called monzie from
http://euqinom7.blogspot.com. i first came across monzie's blog a few months ago and ever since have been wowed by her creativeness and individual style! so much so that i awarded her the sunshine award for being fresh, new and so supportive to my blog as i'm still pretty new to it! monzie is currently at college doing a fashion course and actually made me a pair of leggings that she thought would be tailored to my individual style so here they are! i love them :D thank you so much monzie!
striped crop top- topshop. my new leggings are chic, colourful and stylish!
excuse the incredible hulk stance :P handmade and i think perfect for me! each little shape was hand stuck on and i love the pattern around the knees especially.
i put them with this crop top because although the leggings black, the colourful foam brightens them up and they'll be perfect for summer! this crop top is also great for summer and i think it really suits the leggings
knitted sweater- beyond retro.
so it was boiling today! but for those breezy cooler summer days or nights an oversized colourful jumper like this would go perfectly with my leggings! although colourful, they're not too bright so could also be a subtle accompaniment like in this outfit :)
you may have noticed... my claws are gone! :( another one broke yesterday and as majority have splits in them i decided to cut them all off and start again but i've been assured that they don't look too shabby.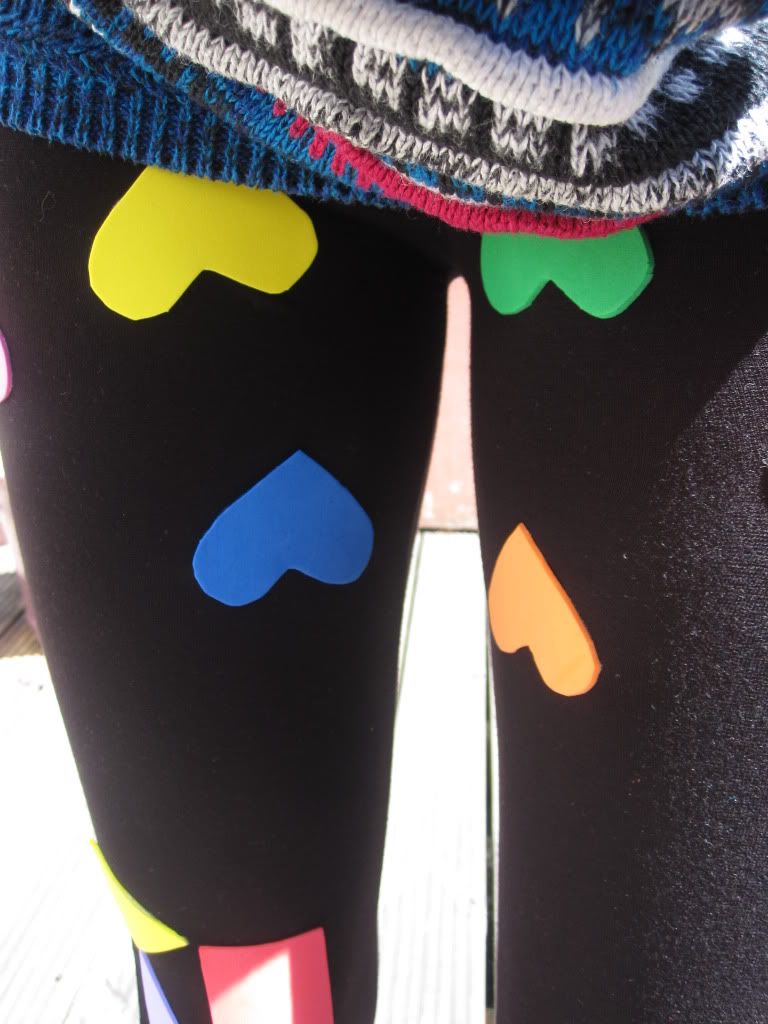 the foam pieces make it 3d and totally different from anything i've seen before. i love the handmade quality they have and anyone could tell a lot of thought and effort had gone into them :) can't wait to wear them again so thank you monzie! :D
--------------------------------------