how are you all today? :) hope you're well and had a fab day. today i went to camden with my beautiful friend anissa to buy hairdye so she can die her hair pink. yes pink. i'll show you photos when she does it! we also went to this aquatics shop near my home to have a look at the snakes they sell! i totally want a snake now :P
also, this morning i woke up to see that i have 102 followers! :D woooo! thank you all so much for reading and supporting me, incuding those of you who don't have blogger accounts but still read my blog! your support means everything to me and i'm so glad you enjoy my blog! to celebrate reaching 100 followers i'll be doing a blog giveaway later this week so keep checking because it'll probably be on wednesday or friday! :)
--------------------------------
anissa is one of my closest friends and has a really unique and quriky style. (photo taken about 2 years ago :P)
she has always been really colourful and interested in different styles and by raiding her mum's old wardrobe from the 80's, anissa's style has turned into a really great mix between modern and vintage.
today i noticed that anissa's outfit was particularly nice and really summed up her personality so today, i'd like to share a little bit of anissa with you :)
jumper and skirt - vintage, ring-tiffany & co.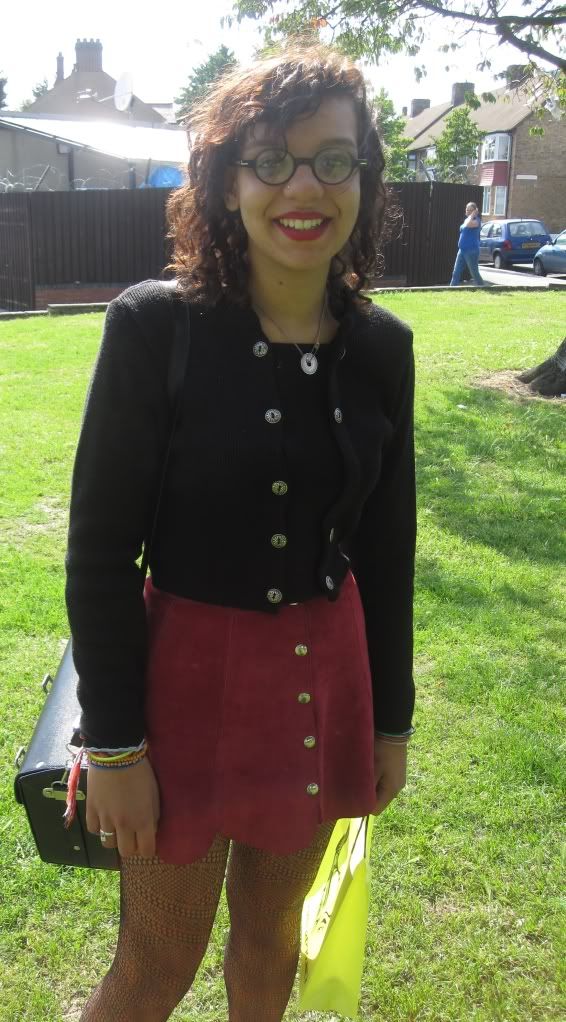 lipstick - collection 2000, specs- gok wan for specsavers
bag-runway factory (closed down now) and tights- primark
anissa is amazing at making her own things and customising things to exactly the way she wants them. a classic example of this is two tone tights, anissa took 2 pairs of old tights and did some snipping and cutting and created this amazing pair of 2 tone tights! inspired by 2 tone tights at american apparel. this necklace is another example of this, a coin and chain from egypt here anissa has changed them into a lovely unique necklace :)
you are really lucky to see these photos because anissa never wears jumpers! this lovely knit one was from her stylish mama's wardrobe and it suits anissa perfectly! it also goes great with the suede-like skirt because the jumper alone could look quite wintery but the skirt adds loads of colour and summers it up!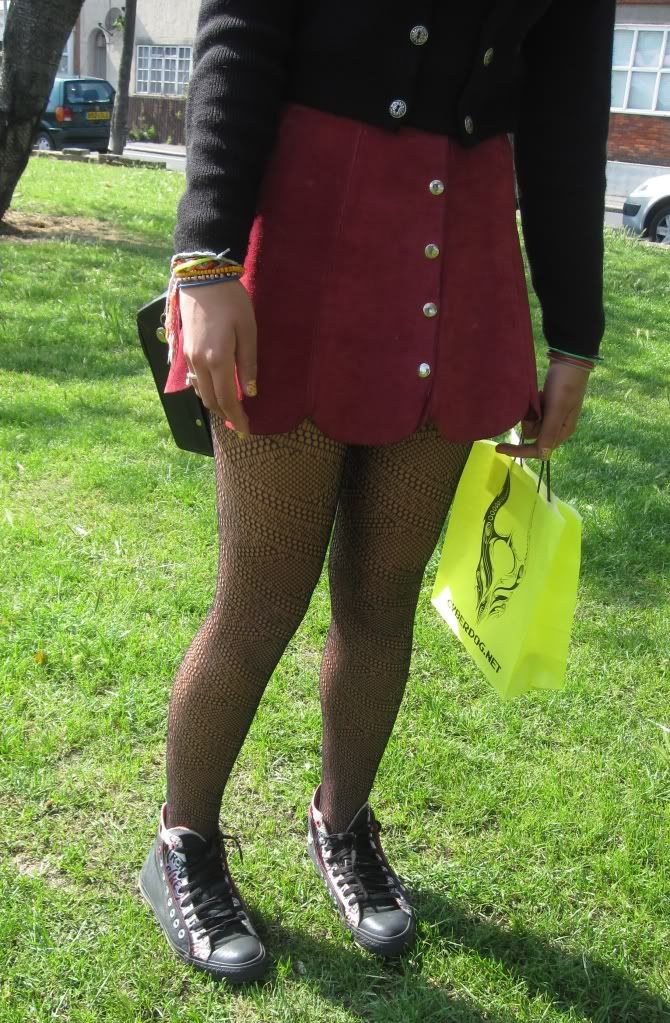 i think it's really cool how the red and black of this outfit are brought together in the trainers and i really like that :) anissa's tights are also really cool, patterned fishnets which primark are actually really good for!
you can see how the back of the tights are thick seamed which adds an extra something to the tights and takes them away from just being fishnets. i love anissas bag as well, today she said that it's the only bag big enough for her massive headphones but i really like it because it's so different.
this is such a beautiful photo of anissa and it really captured her which is what i love about it. anissa calls these glasses her "john lennon glasses" and after a week of everyone making harry potter jokes we all got used to them and now i really like them haha!
it's hard to analyse this outfit because it just screams anissa and she put it together and looks so lovely in it and that's really all i can say! :)
thank you for letting me take photos of you anissa! and i had a really lovely day with you today.
----------------------------------------
here are just a few photos of what i wore today, pretty trampy compared to anissa haha but i think you might want to see anyway :)
shirt - uniqlo, lipstick - barry m
bodycon dress- siobhan mckenzie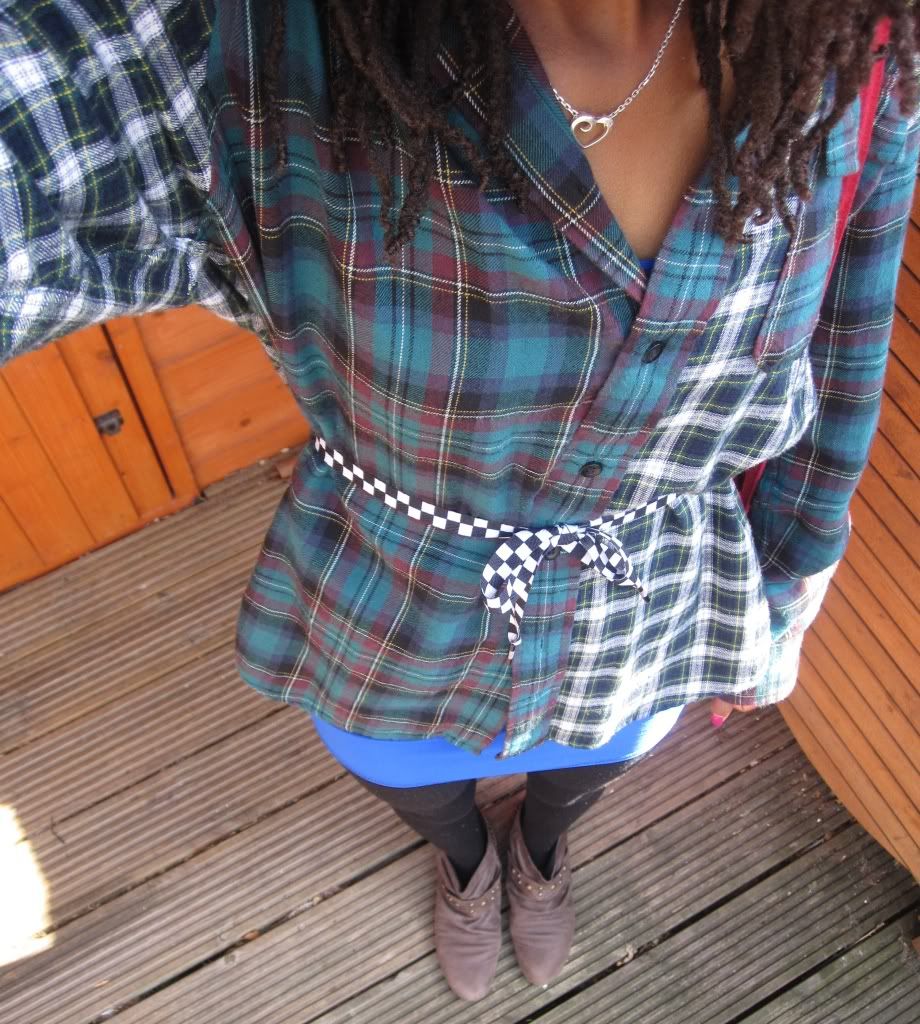 belt - shoelace, can't remember where from :)
------------------------------------------------
i just put this outfit together to wear something comfortable popping into town and it was colder when i left my house! haha. i hope you've all had a lovely weekend and great day :) i'll be posting my giveaway later this week don't forget! ronan xxx