hope you're having a great weekend and today are all appreciate your daddy's since it's father's day! today is the day where we pile in front of them another few pairs of socks and bottles of aftershave and shower gel, just to show them how much we care!
father's usually though, aren't the most stylish of silver fox's and that's the way it should be. i mean i think my brother would be a bit upset if my dad dressed better than he did! style.com have compiled their top 10 best dressed dads, but i could only find 6 of them in decent clothes, so here they are in reverse order (i rearranged to what i think is the correct one) :)
--------------------------
6. wolverine! aka hugh jackman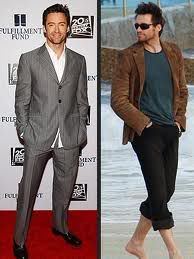 you can't really tell with just 2 pictures, but it looks like a standard celebrity style. it looks like his stylist has looked for "what's hot" and has put him in that. so there's absolutely nothing unique about his style, but i quite like his brown jacket. and you can never really go wrong with grey pinstripe ;)
----------------------------
this seems sightly more individual because of the little things like the striped red belt, horrid cap and also the necklace he's wearing in the last picture. i only have a strong objection to the outfit in the middle because the string scarf and hat just don't work.. i guess orlando bloom fashionable? it definitely looks like he picks his own clothes so that's something :)
-----------------------------------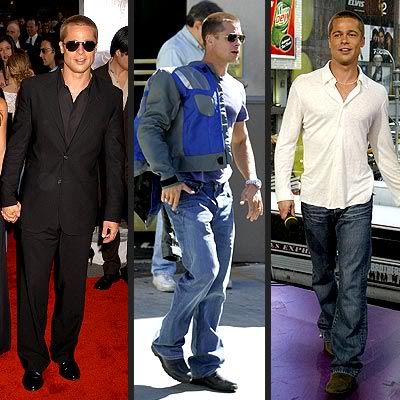 who of you are fans of the pitt? personally i'm not, maybe i have to be 35 to understand the beauty of brad pitt but i do quite like his jacket in the middle picture. it's a biker of which i saw a similar one in camden for £25. he seems like quite a "smart casual" guy because of his outfits overall.and the black suit does suit him well :)
----------------------------------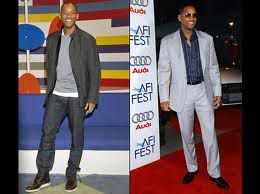 will smith came up at an average of 4th on 2 best dressed dads lists i looked at but i put him 3rd out of the people i found. this is because of his sophisticated but casual style. he seems like a man who likes to dress well and acheives this, i've never seen a picture of him in something absolutely dégoutant so that's why i've put him 3rd.
----------------------------------
david beckham's got a typical essex guy style going on and it actually suits him quite well because i can imagine him picking out each and every thing he wears (he probably doesn't but still). i think the bow tie is quite cute and simply because of the fact that he suits everything he wears he is dressed very well.
---------------------------------
and jude law is number one! :D this may be a little biased because i am a big jude law fan.. but just loook att himm! he looks fab in all these photos like he always does, to be fair i wouldn't have picked the white scarf with the white shirt but jude law pulls it off and looks great so. i definitely think he's the best dressed celebrity dad :)
-------------------------------
who would you have picked? happy father's day! and i hope you enjoyed reading today :) ronan xxx