how're you doing? :) hope you're having a lovely weekend! the sun came out for a little while today which was great :) the week was quite good too, my art exam went really well - i'll show you a photo a bit later on. and yesterday was my last official day of year 11! woohoo! but my exams start on monday so i better get revising!:P
a few days ago, siobhan treated me once again! to a new pair of stunning brogues which she found in miss selfridge for the bargian price of £15! :D so here's what i wore today so see my gorgeous friend philippine and look out for my brogues ;) :D
----------------------------------
i nicked this tee from my brother because he said he was only going to use it as a pajama top but i liked it :) h&m.
skirt- red panel bodycon. h&m. i love it because you can wear it with almost anything and it's really good quality :)
woo brogues! miss selfridge. the white section is lace :) they're superlight and comfortable! thanks vonvon :D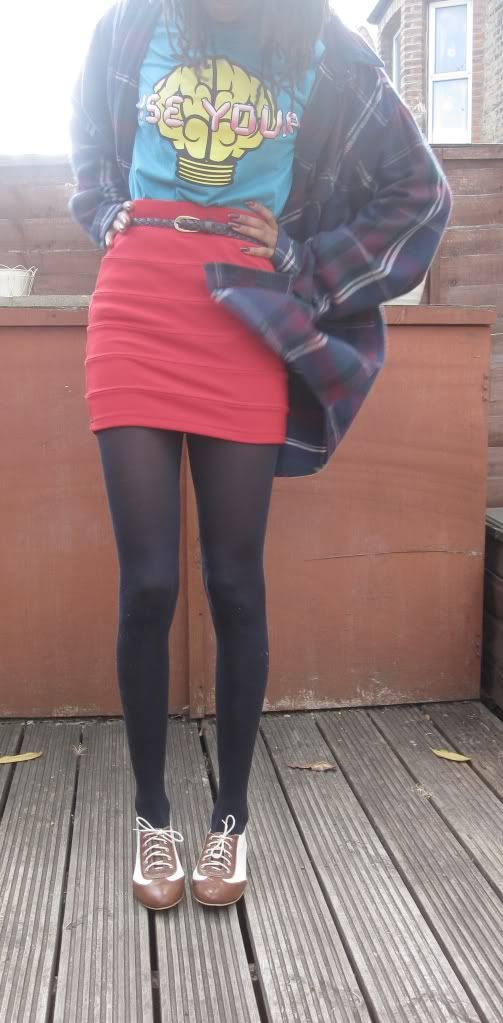 purple plaited belt - topshop. it's amazing because you can wear it around your waist or hips and it fits great ;)
navy tights- sainsburys. sainsburys actually sell amazing tights! they're really good quality, are soft and lovely :D
a new par of shoes for the collection and they're so so comfortable!
classic brogue style but the brown and cream compliment each other perfectly!
nail polish - rimmel red shimmer and black barry m shatter effects :)
vintage thick flanel shirty jackety thing- i got this in camden for £15 a while ago, it's so comfortable and it's a one off! also can be worn with everything so i love it :)
this outfit is comfortable and it didn't take much putting together :) i say the best outfits are spontaneous and i love the colour in this. i also like the fact that just because you wear brown shoes, you don't have to wear bland/earthy colours and this is a good example!
------------------------------------------
here are a couple photos of my gcse art exam work :)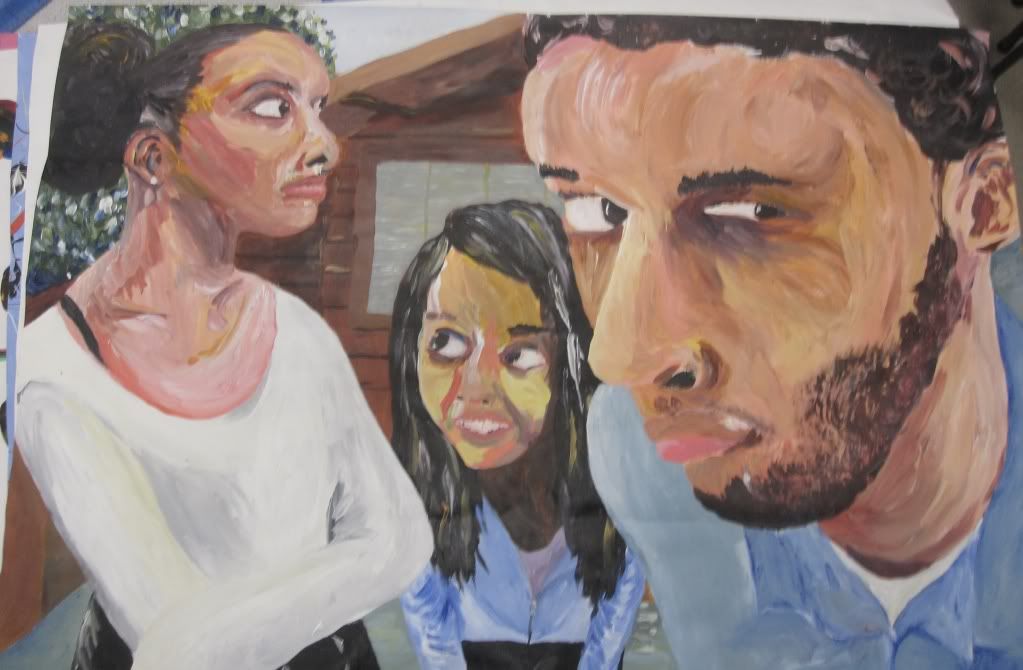 1. this took about 7 hours and it's a1 :) of me, one of my sisters and my brother. acrylic paint.
the one on the left is an oil pastel close up i did in the remaining time :) hope you guys like them!
----------------------------------------
hope you've enjoyed reading today!:) ronan xxx