hope you're all well :) today i had the first 5 hours of my gcse art exam and i actually think it went really well so tomorrow when i finish i'll take a picture and show y'all :). today i wasn't sure what to blog about, excluding my friend eleanor's lovely new coat ( ;) ) but then i thought of a polyvore that i made a few days ago and i found this really cute 50s style dress-
on the left is the polyvore outfit that i put together which i obviously like haha i hope you do too! as soon as i saw this dress it reminded me of back to the future. it's 50s style and yes i know i may seem like a grandma once again but i think it's really pretty! the only thing that lets this down completely is the designer price tag... yep you've seen correctly
. this dress is £425! i think a tenth of the price would be much more suitable.
-------------------------------------------
this dress is by a designer called suzannah- has been a fashion designer and stylist for 15 years who uses inspirations from past trends to create a style that will be more everyday than an old frock you might find in your grandma's closet. suzannah designs i think, some are nice, some are okay, but i think you'll either like them all or none. suzannah prides herself in using the "finest quality italian fabric" but the cost of that means that we end up paying no less than £300 for one of her designs which is definitely a rip off! but here are some things i found on the website, see what you think:)
1. i love the yellow of this one, i haven't really seen anything like this but it does sort of look like something that my head teacher would wear.
2. i really like this dress, i love the colour and the shiny material and i think it would be good for quite a few different events. although it's not £425 worth of nice.
3. this one i definitely see as a more everyday dress and i really like it! i'd definitely wear it and i think it'd be pretty for summer :) i'm not sure on the length- i'd have to see it on but i like the pattern.
4. i love this last dress! i really like it, i like the puffyness of the skirt and the flowers going round the middle. it looks like a dress for a more formal event but it's quite pretty:) but again, £475? if it was £50 then yeah why not!
------------------------------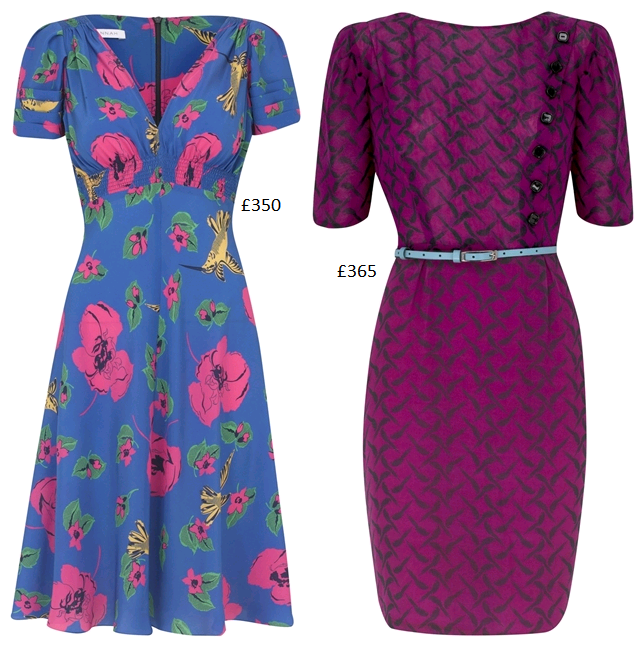 1. hmm.. yeah i don't like this one. i think the pattern on the fabric is nice and if it was a puffball mini skirt or maybe a crop top or even a bralet it would be gorgeous but i just don't think it works here. i also don't like the arms.
2. i think this one would look really lovely on my sister siobhan. it's quite formal but i like the pattern and i think the skinny blue belt actually works with the pattern and style of it. it would also emphasize an hourglass figure and look fab:)
-----------------------------
suzannnah also sell jewellery, separate tops and headpieces of which the tops were hideous. although i did find quite a nice ring, and a headpiece that resembles a purple pinecone.

1. i really like this ring. i like the blue and pinky ones especially i just love the colour and style of them! £163 is very dear but i'm assuming that they're real gold and so maybe can be let off a little. and £365 for a purple pinecone is a ridiculous amount for somthing that's not even horrible, it just looks silly. if you like it, give me a pound and i can handmake you one ;)
-----------------------------------------------
so you see why i have mixed opinions on
suzannah. but i would say to go and have a look yourself, and let me know what you think!:) hope you've enjoyed reading today and have a lovely thursday. ronan xxx