i'm in such a good mood at the minute because i got my gcse music performances over and done with today, plus my art teacher is beginning to actually appreciate my work! woop de doo! tomorrow is the royal wedding.. who's excited? i'm sure you all are for your day off anyway! :D i know i am haha.
so yesterday, i watched the new beyoncé video which i nicked off youtube for you to watch-
it's a remix of her 25th birthday song-get me bodied and it's sooooo good! the video is a really nice dance-along too! :D plus her shoes are absolutely amazing, and i wouldn't say no to the rest of her outfit either :P
you can probably guess that like many others, i'm a big beyoncé fan! i mean i wouldn't hunt her down and wait for her for hours to meet her, but i appreciate good music (belting "emotion" out with siobhan on the way home from the supermarket) and beyonce never lets me down!
beyoncé giselle knowles has been a household name for as long as i can remember, she was born on 4 september 1981 in houston, texas and is most famously known for being part of the girl group destiny's child since the late 1990s. (thank you for that information wikipedia :P) but apart from being generally one to look up to, an actress and model, beyoncé is also an accomplished fashion designer to her brand - deréon.
deréon was founded in 2005 and from then has gone from strength to strength mostly with people who want to be like beyoncé which isn't surprising. and as much as i love beyonce, déreon has good things and bad things... but i guess that's like any designer. i had a look to see some of the nicest and nastiest things i could find and this is what i got:)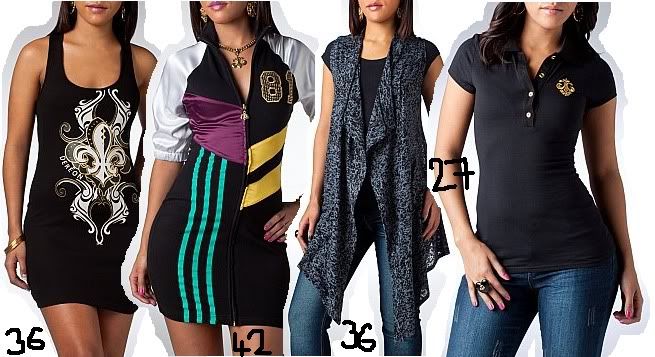 1. first hand i would look at this and think hmm no it's not me. but i could see it working with a smarter blazer or jacket or even just a simple necklace.
2. i love this dress! it's cool and colourful and i really love it! i'm not 100% on the "81" in the corner but i like the dress and it doesn't take away from it.
3. it's actually just the scarfy type shawl that's for sale here which i personally dislike majorly. for one, it has absolutely no shape so it would look like you're wearing a drape and the pattern's not even that nice. i think it would take a look of effort to make work which doesn't make it worth £36.
4. i quite like this simple polo! polo's are really great to have because they go with so many different outfits and suit almost every body shape. the fabric on this one looks particularly soft and stretchy which i personally love :)
1. i can see these working and look really good on someone because they're really different and i actually really like them! they're quite cheap too! i don't think the model\pose does them justice but i actually like them!
2. i think my older sister janelle would like these :P leggingy treggingy material and they actually look quite comfy so i can't fault them!
3/4. classic deréon skinnies, what i like about these is that they're made for a curvier figure so they'd be really flattering on curvy girls and they wouldn't pull and tuck in the wrong places.
5. these are alright, i like the cut because your bum wouldn't hang out and yeah, i quite like them. they're growing on me the more i see them, i'm thinking with either a tight stop or baggy crop top, probably great for summer!
6. i couldn't decide on this one.. what do you think?
1.
i think that the idea of this could have been really really cool. a white shirt with black lace back.. and i'm not sure you'll agree with me but it's just not working here. there's something not quite right about it.
2. i really like this dress too :D it looks really comfortable and stripes are always nice ;) quite a reasonable price too :)
3. i had to zoom in to see what this was properly but to save you the trouble, it's basically a shirt-dress, i quite like the black and blue and can see it working but again i don't like the logo pockety thing for some reason it's almost there but not quite.
4. this is comically horrid. it looks ok on the model but i can imagine someone trying it on and thinking "what..is..this?" hahaha, might be quite funny actually :P
5. this jacket's okay:) can't fault it really, it's not the sort of thing i'd go for but i can see a lot of people i know pulling it off really well with just a simple pair of jeans or dressed up and worn as a blazer.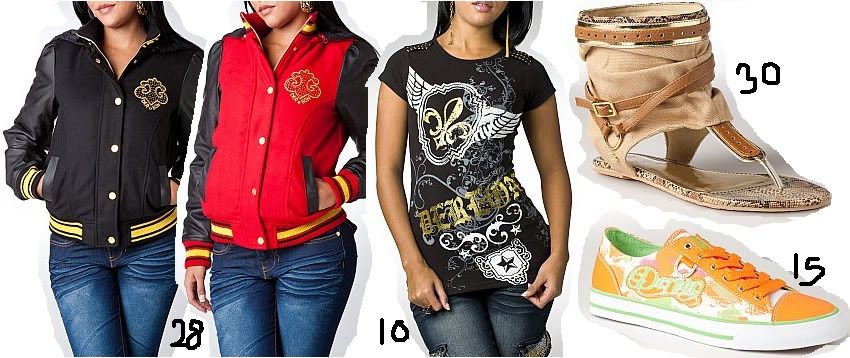 1/2. i love baseball jackets, and i really like the collar on these ones! i love the real leather crossed with typical all american suedey type material for the body.
3. hmmm there's too much going on in this for me so i'm not sure.
3. i can imagine this on someone and them looking really nice! in fact i actually quite like them haha. and they'd stop anything scratching your ankles when you go for a picnic! niceone!
4. yeah these are horrid. haha well they're not that bad but... they're just. you might as well get converses? if you see what i mean :)

1. love these! love the platform and thicker heel so they'd be pretty comfy, and one thing i love about everything deréon, is that i can actually imagine beyoncé wearing it all which is nice.
2. these are pretty cool, £6 isn't bad as well.
3. these are alright, sort of a cross between fila's and nike dunks but they're okay. i'd wear them, they look comfy :P
4. this looks like some sort of low hanging necklace/backlace and it's soooo cool! loving it! i would love one and for only £8! if shipping didn't cost so much i'd be on that! :D
check out deréon for yourself -
http://www.dereon.com/#/home/
but i hope you've enjoyed reading today and maybe learnt something new :) even if it's just that beyonce's middle name is giselle :P have a nice evening! ronan xxx