goood evening! hope you've all had fabulous days!:D
mine wasn't actually too bad seen as i had double science, maths, english and re 8-). but it the weather was sunny and it was good :) which means it's getting even closer to summer! and just 5 weeks until my first exam! ahhh!
anyway, to take my mind off things i thought i'd do some shopping :D and since everyone seems a bit skint this year, i've found some outfits for under £30! and then i'll show you a few of my own outfits i'll be wearing this summer that cost me £30! bargain i think!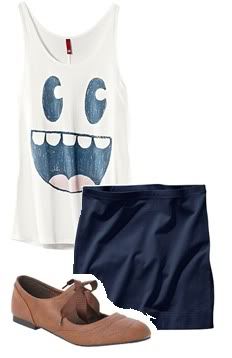 1. top h&m £6.99, skirt h&m £3.99. shoes new look £16.99. i chose these because the top could be worn with literally anything! on it's own or under a cardigan etc. the skirt i actually have myself, is great quality and a massive bargain! and the shoes are just pretty:) perfect for summer and under £30!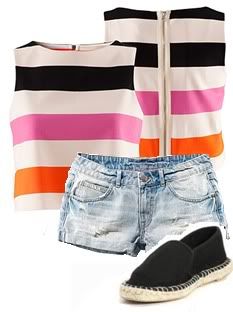 2. top h&m £14.99, shorts h&m £14.99. which does add up to £30 but i threw these shoes which are similar to toms in - new look £6.99 or 2 for £10. because you could wear them with anything :) i really like this outfit because the top brings so much colour to the outfit, i really want it :P and denim shorts are a summer wardrobe must have!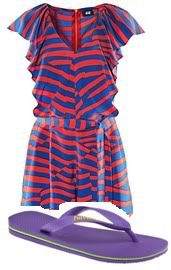 3. playsuit h&m- £19.99 and haviana flip flops £9.95 schuh. i don't usually like playsuits but this one caught my eye because i love the colours :) it would be really good casually but with a blazer and heels it could be great for a night out too. i put it with these flip flops because although purple, i think they go and they'd be really snug to walk around in :)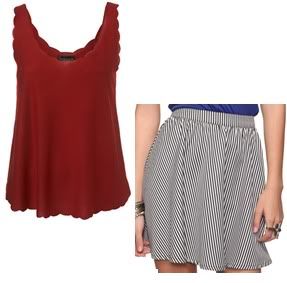 4. okay so this top is from topshop £15 and skirt- forever 21 £12. i really love this outfit because it would be really comfortable, colourful and look good. it's the sort of outfit that looks good on all shapes and sized and the thin stripe of the skirt would jazz up any wardrobe :).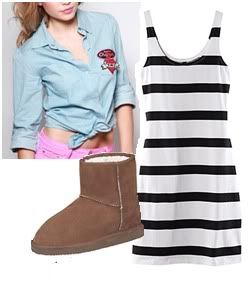 5. shirt forever 21-£10. dress h&m £7.99 and boots - very £12. this outfit would be great with the bodycon dress under the shirt, and the shirt either tied or down as it is. i could imagine wearing this around all summer! with these pretty much cheap "uggs" you wouldn't have to worry about mucking them up. and they'd go with loads, like the shirt and dress both would also. the shirt could be worn with shorts or jeans and the dress on it's own or with a tee or chiffon shirt.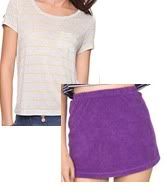 6. this i just threw together because i liked both the things :P the skirt- american apparel now £3 and the tee, forever 21- 9.75. i really like both these items because they're so simple, summery and comfortable. i have this skirt in black and it's very short, but also looks good with pretty much everything else in my wardrobe. everyone needs a good black skirt and for £3! head to h&m or american apparel!
------------------------------------
now i had a little look in my wardrobe to find some outfits that were only £30, without shoes though :) do excuse me as i got a little adventurous with the photos :P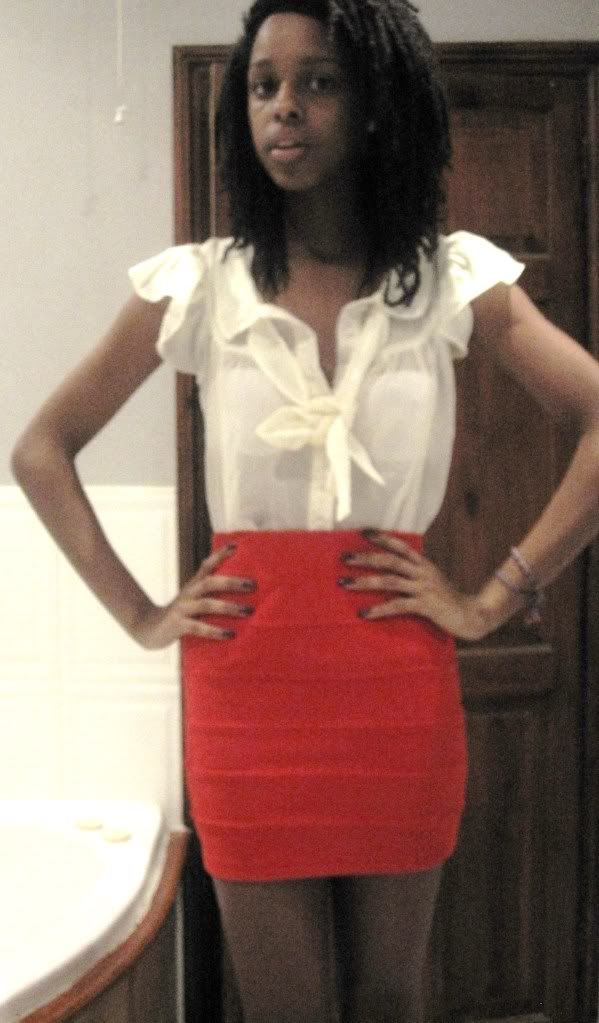 top and skirt h&m - £14.99 and £7.99
top topshop £18. skirt urban outfitters - £9.99

top h&m £7.99 shorts topshop
skirt h&m £3.99 (same one as above) sweater h&m 14.99
hope you've enjoyed reading today! if you have any under £30 outfits, send me them and i'd love to have them on my blog! :) ronan xxx