hope everyone's good today! even though if you're in london it's been the first gloomy day in the week heat streak :( nevertheless, it doesn't mean that we should start wearing greys, blacks and navys, instead we should try and add a little colour to the weather.
okay so no haha, this isn't what i wore! this is a tee and tights that accompanied what i wore, but i thought that if these tights were leggings then it could make quite a nice colourful outfit. unfortunately i couldn't find any leggings to impress you with that were a nice flowery pattern like these accessorize tights that my lovely friend amber got me for christmas last year. but i did find some tights that were nice and colourful however i couldn't find any with a flower pattern but this is probably because they're "so last season":P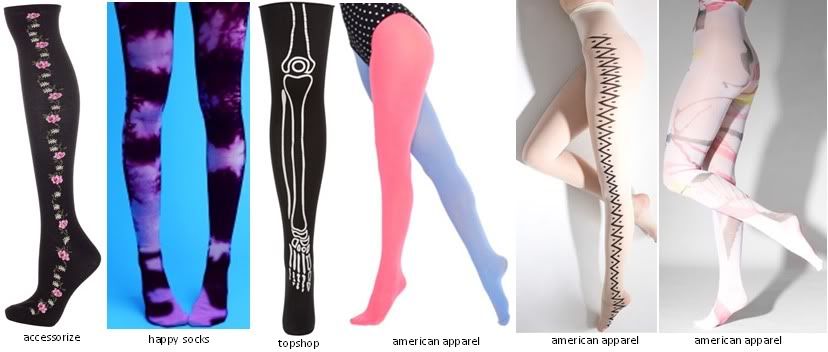 1. accessorize, 2. happy socks, 3. topshop and 4,5,6 american apparel. i really like all of these tights especially the fourth and sixth pairs. i love the different leg colours on the fourth pair. i used to have a pair from american apparel, one leg dark purple and one green and they were amazing! but unfortunately they got into a little accident and now are ripped so i can't wear them and they're discontinued :( but at least american apparel have loads of fab new colours for these including, black&white, yellow&pink and brown and beige. the sixth pair you can just about see the light paint splashings which i think are really cool and would make just a plain outfit so much more interesting!
------------------------------
so what i actually wore was this great lazy oaf jumper dress, with the tee and tights underneath:
i really love this jumper dress because it's so warm, comfortable and i think that although it's black, it definitely brightens up the day. the bold rabbit print on it makes it stand out, and when accompanied with coloured or patterned tights it definitely works. it's not fitted but i like that about it because it makes it a lot more comfortable which is why i haven't pulled it in with a belt or anything. i also feel that a belt would take away from the rabbity design.
i found some other lazy oaf jumper dresses that are similar to this:

i've have my jumper dress for about 2 years now, and it's still in really good shape so lazy oaf clothing is a really good quality. also, they're things don't really go into fashion or go out so if you buy something then it'll really last you til it doesn't fit!
i love all four of these jumpers, they all look so cosyand i especially love the pom-pom on the second one. i like that lazy oaf dresses can be worn with a skirt, shorts, jeans, trackies anything! and you'll rarely see another person with the same thing on as you :)
-----------------------------------------
also, since i had the colourful tights on i decided i should show you the most colourful thing in my wardrobe, and this would definitely be another jumper dress, but this one made by dr philip normal- fashion designer and editor of super super magazine. who can be found online, on twitter, or in camden stables market.
jumper dress- philip normal, white tie- borrowed from my friend anissa and never returned.
i bought this dress for £40, about 3 years ago after seeing it and instantly falling in love with it. philip normal said to me that it was his favourite and i'd have to take good care of it which i have! i absolutely love this lightweight, comofortable colourful creation because it's so different to the usual things that i see. granted that in camden you'll find lots of different colourful and quirky things but this handmade jumper-dress is made to such good quality as well.
the only problem is that i don't wear it very often because i never think that anywhere is fun enough for it to be worn to, but i'll definitely start wearing it more often as there are so many ways to wear this; with jeans, tights, leggings, high waited shorts or a pencil skirt.
i pulled it in at the waist because i liked the look that it gave instead of it freely hanging and i think the white goes with the design of the rainbow sky on it.
what i absolutely love about philip normal's creations is that they're all unique, he also makes jewelery and other bits and bobs that are retro and colourful. here are a few things that i really want-

as you can see all of his creations are completely unique and he does encourage people to contact him to make them specific items so i'll definitely be tweeting him in a minute to find out if he can make me some of those ridiculously cool mcdonalds style trackies and one of those blazers while he's at it!
--------------------------
so, i hope you've enjoyed reading today and have a lovely rest of day :) ronan xxx