i hope everyone's good! i've had a really nice weekend, yesterday i got my triple jump pb of 10.81m which i'm really pleased with! :D especially as my coach made me do an 100m race before it. but it's the beginning of the athletics season and hopefully i just get better and better! :)
so today i went shopping with my little-big sister janelle which was really lovely! :D i'm going shopping again tomorrow so expect a post tomorrow/tuesday on everything that i bought\tried on!
today though, i'm going to show you some of my art work... my clothes artwork!
i'm not sure if any of you know, but i used to design plimsolls. (left & right) and so when my lovely sister siobhan at siobhan.mckenzie.co.uk asked me if i fancied designing some dresses and slouch type tees she made i jumped at the opportunity! so i thought i'd show you all what i came up with :) let me know if you'd like siobhan and i to make you any of the designs as siobhan made all of the clothing and i handpainted them all!
---------------------------------
1. grey vegetable ant dress
siobhan made this gorgeous grey bodycon dress and handed the fabric paint over to me to which i painted on a carrot, peas in a pod and a tomato, accompanied by some very hungry ants! i really love this, i would wear it on it's own, or with a shirt over.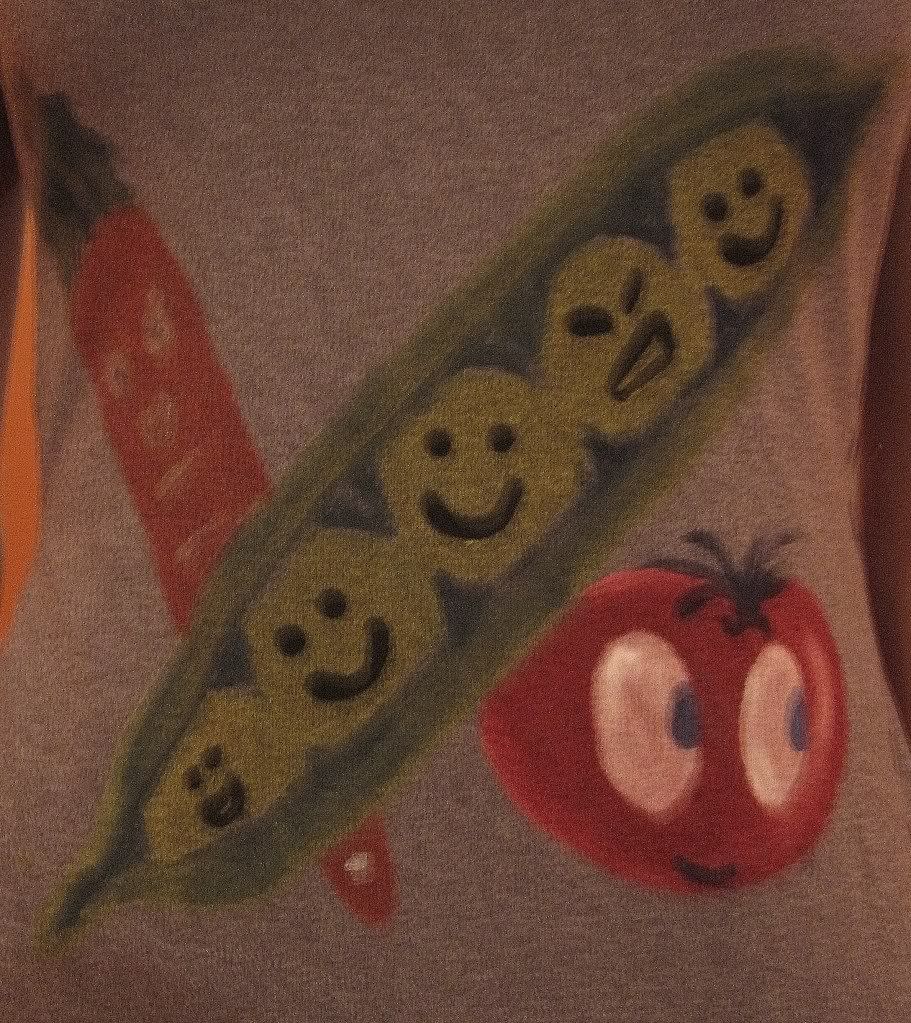 -------------------------------------------------------
2.
hot pink paint splattered tee
quite simple but really comfortable and the splatter adds little hints of colour so you could wear it with almost anything :) my inspiration for this was the action art movement, i love jackson pollock and franz kline art work and that's where i came up with the idea of doing this.
----------------------------------
3. white lovey bird crop top
slouch style crop top which i love and will be perfect for summer! recently i've been obsessed with the bird pattern and i love this type of bird print. in fact today i bought some bird print tights :P i got the idea for this by googling bird tattoos, and that's where the 2 birds came from. i instantly loved it when i saw it! then i decided to add a little embellishment and so i painted a few birds in the corner and i think this adds a little something. this would go with pretty much anything, and monochrome is really big this summer!
-------------------------------------------
4. royal blue peace slouch tee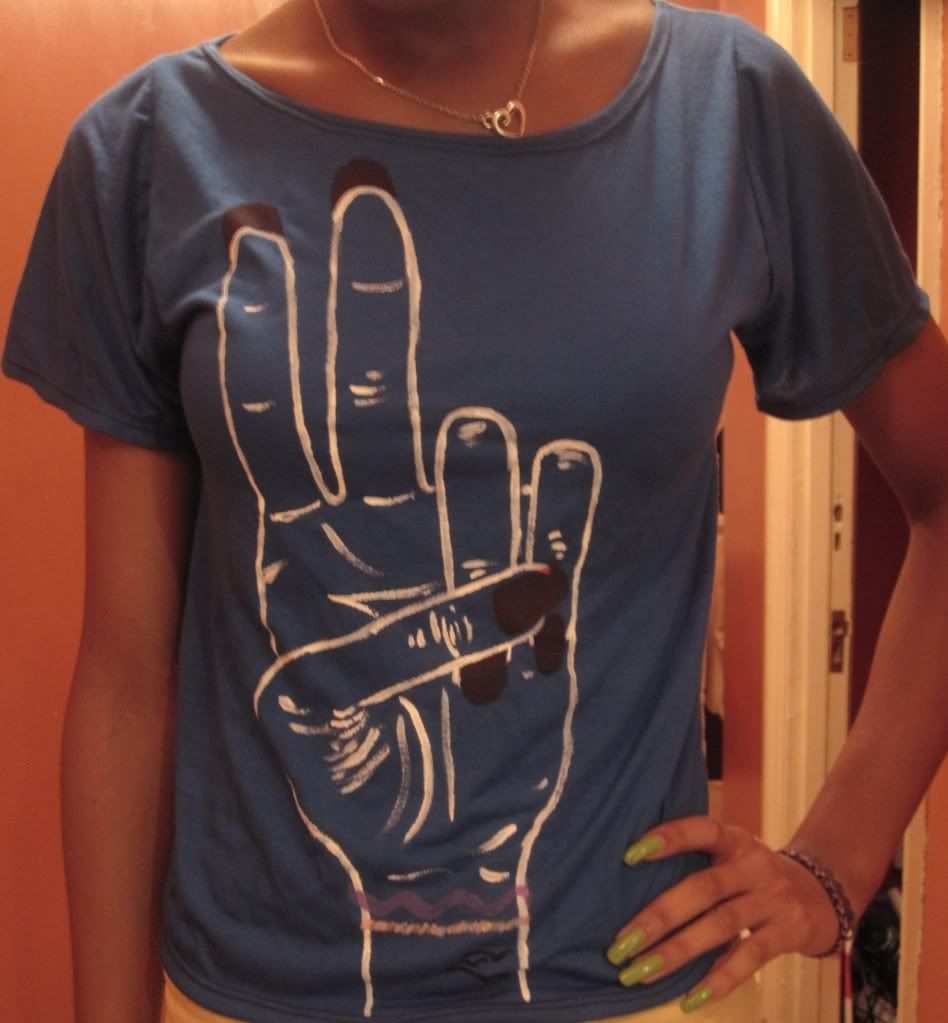 i really love this one, it's based on my hand (you might recognise the long nails and bracelets). i got the idea for this because for some of my art coursework, i was drawing my hands and i liked it so i did a pop art type style with it. so i thought "ah that would be pretty cool on a tee" and here we are!
---------------------------------------
5. royal blue hand print bodycon dress
last but not least! i really love this dress, i know it's my design but i really like it! it has 2 hand prints on the hips, where my hands fit in to the perfect slot when i put my hands on my hips. it's a really gorgeous bodycon dress and although small detail i haven't seen anything like this hand on hips and i really like it :)
---------------------------------
i hope you like my designs as much as i do and i hope you've enjoyed reading! ronan xxx