so it's summer, and it's a girls' prerogative to shop a little more than usual!
today on this fine saturday, when everyone was still buzzing from the royal wedding and i made 2 delicious cakes, siobhan and i went for a nice little stroll down to our local shopping centre to have a look at what was on offer :D
the 2 main shops we went into were topshop and river island (best 2 shops near me) and here are all the things we found, and the 2 things that siobhan bought me (woohooo!:D) excuse the bad quality photos, i forgot my camera so had to use my phone!
1. topshop brown polka dot dress - £32 also available in red and white-
so i really liked this when i tried it on, but i thought it might be nicer if it was designed how it is on the right :) what do you think? but it's great how you could have it either way. it's really comfortable and i love the white buttons, but i couldn't imagine myself wearing it that often.
-------------------------
2. yellow floral top- £26, and floral printed shorts-£12
i wasn't sure about this top.. sometimes my friends say i'm a bit of a grandma because of some of the clothes i like, and i thought that this top on me stepped over the granny line. i don't really like the frills :P but i actually really liked these shorts! they were ultra comfy and would be perfect for the beach!:D but as i'm not going away this year, length would just cause unwanted attention even in tights so they were a no no.
--------------------------
3. floral waisted black dress-£38
siobhan and i really liked this dress :D it was nice and i think it looked really nice but it didn't have any special quality.. nothing different and it's also sort of one outfit. change jackets or something but that's sort of it. i really liked the back though :) not just £38 worth of good.
-------------------------------
4. white and green striped sleeveless top - 22.50 also available in blue. royal blue skirt-£28
absolutely looooveeee this top! (one of the things siobhan bought for me :)) it's super comfortable and nice, stripes are always good and i couldn't think of anything i couldn't wear it with :) i loved the skirt as well! it came with a lovely suede belt, and it was a really nice jersey material which was so comfortable! the only thing i didn't like about it is that it was quite restrictive as it wasn't stretchy and i'm not used to that so if i wanted to sit down or something it might be quite uncomfortable.
----------------------------
5. red flower print wrap sundress- £36
i'd like to point out that i picked this dress for siobhan and we both absolutely loved it on her! :D it compliments her stunning figure and is a lovely bright dress for summer also at a really great price:) the only thing siobhan didn't like about this is that it was a little too short for comfort for her (when she bends over you do get a small bootay flash) and if it was a little longer she'd definitely have bought it.
-------------------------
6. green striped top with red denim hotpants-£26
the hotpants\short shorts were the second thing that siobhan bought me and i absolutely love them!:D they're super comfortable, and you all remember my post about looking for new denim shorts and these are perfect! i love the colour and i'll probably have worn them so much by summer that they'll be dark pink :P
1. hideous trousers that i tried on for a giggle- £34.99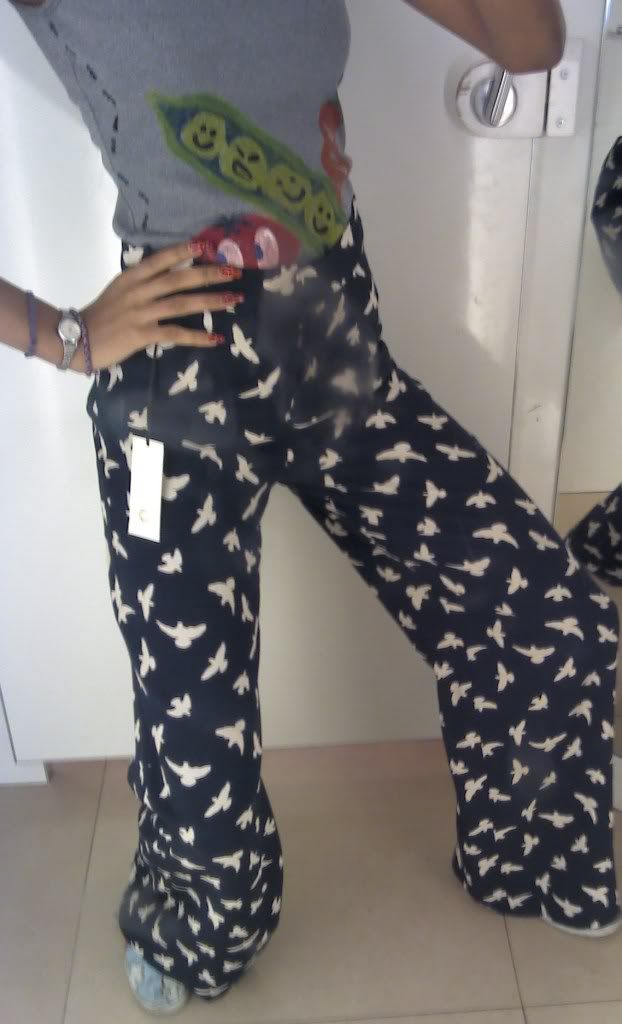 my camera blurred a bit in this picture... haha try and ignore it :P i really love the bird pattern on these but the actual trousers looked like something from saturday night fever! i didn't understand the style... they were sort of. anyway you see what i mean. i decided to try them on because there were about 7 different colours of this style of trousers and i wondered which retail buyer thought anyone would buy them? they were comfortable...i guess.
-----------------------------
2. my first maxi dress - £44.99
okay so i don't usually wear anything longer than mid-thigh, and i decided to try something new which i don't think went that badly! i don't particularly like it because i think it ages me and it's not really my style. but i'm glad i tried it because i quite like the top half of it, and maybe now i'll be more willing to try longer things :)
this blazer really suits siobhan :D as you can clearly see the colour is perfect and not too bright. siobhan didn't like that it didn't have a button in the middle though, because then you can't actually button it up which could prove quite annoying. but none the less it's a really great blazer:D
--------------------------------------
also! i'm a newbie on polyvore (Ronan Mckenzie if you have it) and so any styles i create will now be displayed at the bottom of this page so keep your eyes peeled! or, if you look to the left of my sidebar you will see a polyvore badge where you can see my styles :) i hope you've enjoyed today's post and take my lead in trying something new:) ronan xxx