hope you're well! if you were in london today the weather was lovely! if not then... i hope you've had a lovely day too :P quite a long detailed post today but i hope you enjoy it!
today i went shopping again today with one my my best friends ruby:
to get a dress for her prom. it was amazing to see her because she lives in somerset so we don't see each other very often :( but we both love shopping so we had a great time :D
it seemed so hard to find the perfect dress but i'll show you some of the things we saw, i found online and the perfect dress that we found for ruby :D later i'll also show you some things i bought/tried on when i went shopping yesterday, and the stunning dress that cheryl cole probably got to keep! :(
----------------------------------
1. the perfect prom dress!
1. a gorgeous karen millen original. the scarlet is gorgeous and i love the way that instead of clinching in the middle it sweeps to the side.
2. another beautiful karen millen dress, i love this because it's so unique and colourful while still being sophisticated and smart.
3. ruby and i saw this dress is selfridges and the material was absolutely to die for, so beautiful and soft that if it wasn't so expensive it'd be a wardrobe must have!
4. i love this diane von furstenberg dress because it's really different. i love the different patterns and the tailored torso of it would be flattering to most body shapes.
5. i absolutely love this dress. i love that it gets slimmer as it goes further down which gives a slim and slender look - flattering to all body types! it also exaggerates the hourglass shape which would make curvy girls look gorgeous, and give less curvy girls some shape.
6. this is gorgeous. marc jacobs has some really youthful and colourful dresses in his "marc by marc jacobs" collection and this stunning dress would suit so many different occasions.
1. this theory dress is stunning. so simple yet has so much elegance and grace.
2. this is probably the sore thumb of the prom/evening dresses, short and daring but i love the leather corset design at the top because it goes perfectly with the chiffon skirt and sleeves.
3. alexander mcqueen is responsible for some of the most gorgeous dresses ever, and this is definitely one of them. t sort of reminds me of fire, but i love the strapless ribbony flowery quality of it.
4. this is the beautiful dress that ruby went for but ruby got it in navy, below you'll see it on and it looks even more gorgeous.
5. this is such a bargain for a lovely maxi dress, i could imagine it being worn out for a smart meal or somewhere formal, but also to relax in the garden with a barbeque in it!
6. the last is a stella mccartney which i adore! i love the leafy pattern and although it could be quite short, it doesn't lose any class or sophistication!
--------------------------
this is ruby's beautiful dress. she bought the navy, but here also is the green as seen above:
you can't disagree with me that it's an absolutely gorgeous dress, and ruby look breathtaking in it! :D <3 i'll keep you updated when she finds the perfect shoes!
----------------------------
okay so here's what i wore
yesterday and today :)
bird jumper- topshop, bodycon dress- h&m, bird pattern tights- primark, bear hat- a gift.
i really like this outfit, i like how my tights and top match sort of, and that there's not that much colour then there's the cute little pink heart.
top-jack wills, skirt- american apparel, tights-sainsburys, shoes- toms, hoodie-hollister
i like the colours in this outfit. i know colour blocking is totally in this summer but i love this striped top and it's so comfortable, and the red just makes it so bright. i put the hoodie on because i was cold, but i quite like it because it's slim fitting so matches the rest of the outfit :)
--------------------------------
here's what i tried on! i bought the 2 dresses :D everything h&m so available from
http://www.hm.com/gb/
.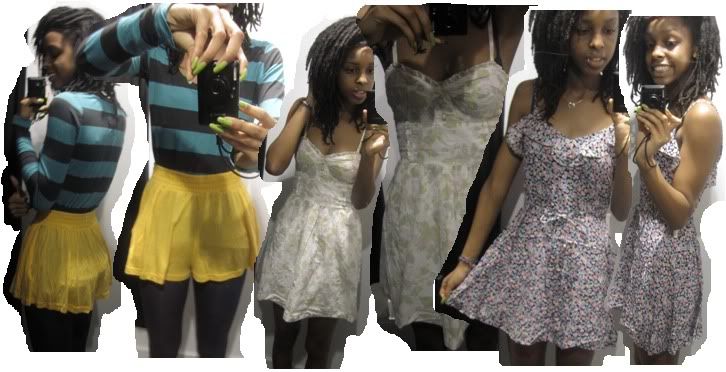 1. these shorts were great! i love the colour and they were only £6.99 so i thought woohoo! only thing is is that they were see through... and also very tiny and would be blown up in the wind. so i thought hmm.. maybe when i have money to waste :P
2&3. i bought these dresses! i don't really have any summer dresses and i fell in love with these as soon as i had them on! i love the relaxed fit, and the first one has a beautiful underskirt! they'll be perfect for summer (but also with tights in winter) and all i need now is a little denim jacket to accompany them! :D
1. "damn girl how'd you get all of that in them jeans?" answer is= you don't. hahaha, i thought these were my size but after struggling to get them over my bum i couldn't do the button up and i don't even have a big bum so they made me feel like the hulk! (explains the hulky picture) i find it so hard to buy jeans because i have quite long legs (33/34') and quite a small waist. i liked the colour of these, but the length wasn't long enough for how i like jeans to fit and you girls know how particular we are about how things fit. the search continues!
2. this simple pencil skirt has little leather bits, and i'm usually quite good with pencil skirts i like the way they look. but there was something completely wrong about this on me!
3. this isn't clothing, but this £2.30 ginger beer from a little shop in kingly court (carnaby st) was the most delicous ginger beer ever. although it did look like i was walking around swigging a cobra beer.
4&5. i'm a sucker for brogues, and these 5 pairs had me going mad! except i prefer the red, blue and brown/white ones not the plain brown and white. i saw these in the russel and bromley window and the coloured ones won me over. the white ones may have me looking a little bit too much like i was in the mafia :P
--------------------------------
lastly, a bitta' cheryl cole!
okay so yes, i am another one of those girls who thinks cheryl cole is "will cooooooooool". that was my geordie accent by the way :P so i thought i'd pop her in here because this is from her may 2011 glamour shoot and i need the playsuit she's wearing on the left! it's so gorgeous and flowery :D
and i tried really hard to find out what dress she's wearing on the right because it's absolutly stunning! but i couldn't find it unfortunately. i think they're really beautiful outfits and really look amazing on cheryl cole (like most things do:))
----------------------------
that's all for today though guys! i really hope you've enjoyed reading :D ronan xxx